If you are reading this, chances are you are already aware that:
As a citizen, there is very little you can do to change the performance of an out-of-control government. Nevertheless, you can take some simple, proactive steps to help defend your wealth and your family from the consequences of bad fiscal and monetary policy.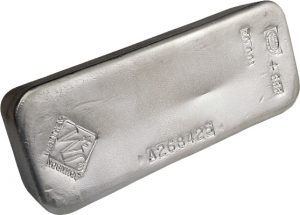 In fact, that is pretty much the American Way in a nutshell.
Today, we'll explore one of those proactive steps in a little more detail: adding real, high-quality silver bars to your retirement portfolio. Unlike U.S. dollars or paper assets, such as stocks and mutual funds, silver bars cannot lose their value because of poor policy decisions. Silver is valuable, has always been valuable, and should remain valuable long after you need it.
Silver vs. Gold
As popular as gold is — particularly in jewelry, art, and dentistry — silver has a wider application. Gold boasts superior resistance to corrosion and oxidation, but silver is superior to all other metals in terms of thermal and electrical conduction. It is also non-toxic and actively kills or inhibits microorganisms, such as bacteria.
Here is a great quote from Geology.com about the potential of silver:
"Silver can be ground into powder, turned into paste, shaved into flakes, converted into salt, alloyed with other metals, flattened into printable sheets, drawn into wires, suspended as a colloid, or even employed as a catalyst."
Because it is a much better industrial and medicinal metal, silver is used in a greater range of products and services than gold. In other words, silver may actually be a more attractive asset during extraordinary times (such as a currency crisis) because of its usefulness.
Investors, especially those new to precious metals, may be attracted by silver's lower entry price. (Read "How to Acquire Silver Without Hurting Your Wallet.") More experienced gold investors can leverage silver as a way to diversify their precious metals exposure.
Silver Bars vs. Silver Coins
For investors who want to add some silver protection to their retirement accounts, silver bars offer more metal for the money than silver coins. This is mostly because silver coins tend to carry a larger numismatic value and, by extension, sell at higher premiums. (Not to mention that minting costs tend to be higher for coins.)
The restrictions on eligible silver bars and coins are virtually identical. In order for a silver bullion piece (bar or coin) to qualify for an IRA, the silver must have a minimum metallic fineness of .999, which means it is 99.9% pure silver.
If the only thing you want your silver to do for you is help protect your wealth from potential economic or political threats, then you are probably best off using .999 fine silver bars.
IRS Rules for Silver Bars
Silver can be added to most types of IRAs, including traditional IRAs and Roths. You must check with your custodian, however, because many are not designed to accommodate precious metals and may force you to cash out or transfer.
Generally speaking, the rules for IRAs that contain real silver bullion (aka "Silver IRAs") are the same as those for a conventional IRA. There are two major differences:
A Silver IRA allows you to add precious metals (silver, gold, palladium, platinum).
You must keep your physical investment assets (i.e. precious metals) in an IRS-approved depository.
Thanks to extra regulation, adding silver bars to your IRA takes a little longer than adding stocks or bonds, which often only involve clicking a few buttons on your mouse.
Obviously, the rules of prudent investing suggest that you should speak with a qualified tax accountant before making any major adjustments to your IRA (or other retirement assets). The IRS is not particularly forgiving to those who misstep while handling retirement accounts — ignorance is not a defense.
Note that you cannot add silver (even IRA-approved silver coins and bars) that you already own, unless they are part of another IRA.
If You Still Have Questions…
In addition to the tips and strategies listed here, if you call now, American Bullion, which provides all the education you need, will discuss your options and handle all the steps for you, hassle-free!
Our goal is to help give you control over your own retirement, and we work hard to ensure our services are transparent, safe, and efficient.
Although the information in this commentary has been obtained from sources believed to be reliable, American Bullion does not guarantee its accuracy and such information may be incomplete or condensed. The opinions expressed are subject to change without notice. American Bullion will not be liable for any errors or omissions in this information nor for the availability of this information. All content provided on this blog is for informational purposes only and should not be used to make buy or sell decisions for any type of precious metals.