Platinum Bullion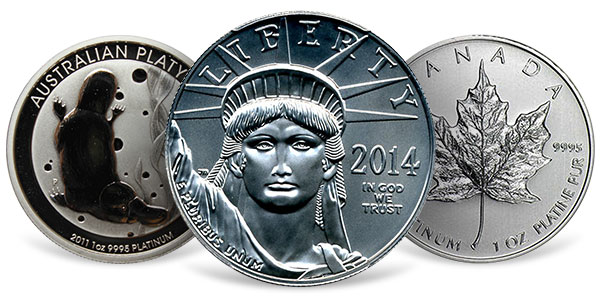 Platinum bullion is becoming a popular addition to investment and retirement portfolios alike. Despite being third in precious metal popularity, behind gold and silver, platinum continues to be a primary consideration for investors looking to further diversify within the precious metals arena. There are fewer products and brands available in platinum, compared to gold and silver, but that only plays to its scarcity. Another interesting feature of platinum is its historic tendency to rebound in value, shortly after falling below the value of gold. Like gold and silver, rounds, bars and coins are typical forms for platinum bullion.
Premiums on platinum bullion are reduced as the weight of the product is increased. Coins tend to be the most expensive product, just like gold and silver, due to additional design and manufacturing costs. Coins also offer an opportunity for a greater increase in value based on potential numismatic demand. Click here, for a list of IRS-approved products that can be held in a platinum IRA. Call American Bullion when you're ready to make plans to diversify your portfolios with products consisting of platinum bullion.
Platinum bullion coins are popular elements in today's diversified investment portfolio, particularly the American Platinum Eagle. It differs in design from its gold and silver counterparts, with a reverse design first introduced in 1997. Today the coin features the face of the Statue of Liberty. Since 2009 when the "Vistas of Liberty" program was launched, it has featured new images on the obverse side, that didn't involve the bald eagle. Collectors saw another possible opportunity for numismatic appreciation with these attractive, platinum bullion coins.
Platinum bullion products are an important consideration for any type of financial portfolio. Don't trust your physical precious metals future to anything less than the best. American Bullion was not only a pioneer in the Platinum IRA industry, but also has the knowledge and experience necessary to make your acquisition experience a very simple, pleasant and efficient one. Call the specialists at American Bullion at (800) 531-6525 to discuss questions, concerns and to diversify your holdings with platinum bullion products.