If you're interested in an investment that has a history of maintaining its value and even growing in value in even the shakiest of economic conditions, consider precious metals. Gold and silver are appealing to many investors for their liquidity and global worth. When investing in precious metals, one option is the purchase of bullion. Both gold and silver bullion are available.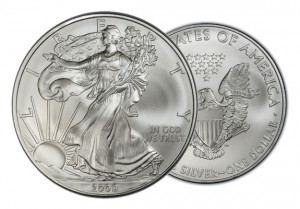 Bullion is bulk silver in the form of coins, bars, or other shapes that is traded on the commodities market. The requirements for silver bullion are quite strict; silver bullion must meet purity standards of 99.9 on the London Bullion Market. Although there are other trading locations — such as Zurich and New York — London remains the top trading destination for both gold and silver bullion.
Reasons to Buy Bullion
Whether you're a new investor or have years of experience, bullion can be a solid addition to your existing investment portfolio. Many investors choose bullion as a hedge against currency collapse. For example, if the U.S. dollar lost all of its value, investors holding silver bullion would still have something to fall back on. Silver can be used for functional purposes or as a backup to paper currency. Silver has historically proven that it gains value over time, which makes it a wise investment alongside gold.
Should You Buy Silver Coins or Bars?
Many investors would advise you to purchase bars instead of coins. Bars are uniform in shape and size when purchased from the London Bullion Market; as are gold bars. And, as previously mentioned, these bars must meet purity standards of 99.9 percent. Of course, there are reasons why you might choose to buy coins. Many collectors who are interested in world currencies choose to purchase silver coins. Silver Eagles and Kookaburras are two examples of popular silver coins.
How is Silver Turned into Bullion?
Silver grain is melted at temperatures in excess of 1600 degrees, which transforms it from a solid to a molten liquid. From there, the liquid silver is poured into molds, then sized into evenly-proportioned bars. Silver bars are stamped with identifying information, including purity marks. When it comes to purity testing, high-tech equipment is used to ensure incredible accuracy. Silver bullion is weighed in troy ounces, which is the same measurement used with gold bullion.
The Basics of Silver Bullion Investing
Silver and gold are both thought by experts to be strong investments in any economic climate. If you'd like to start investing in silver bullion, the London Bullion Market offers the finest silver bullion. Both silver and gold have historically risen in value, so you can feel secure when backing your pension or other retirement plan with precious metals.
Is it worth it to buy silver bullion?
Considering that it is a physical asset, it has naturally essential usefulness. This, in turn, makes it a better alternative to the dollar and other paper currencies. When you buy silver, you can trust its ability to hold its value for a long time.
Precious metals earn you more returns than fixed-income investments such as stocks and bonds. They promise you a fixed percentage ROI per annum which means that your earnings are predictably low in most cases regardless of how long you save.
Buying silver also makes sense when there are low-interest rates. The inherent level of interest rates in a market is a good indicator of the market conditions over a period.
Any form of investment in silver is not meant to earn any income in a short time. Some investors prefer to play the long game and wait to earn interest payment as the capital gains of silver accumulate.
It establishes an inverse relationship between the commodity and the level of interest rates. The higher the interest rates, the lower the value of silver– opening up the chance to buy silver at a lower price per ounce. Lower interest rates mean a hike in the value of silver, and some investors take the time to sell some of their silver holdings taking off some interest on capital gains.
Silver is like gold as a safe-haven investment from the otherwise cruel markets.
Types of Silver Bullion
Making silver bullion involves melting physical silver in its various forms, mixed and what-not– coins included, albeit after the pure silver has been extracted.
Several industries are dedicated to producing perfectly weighted pure silver bars from melted silver products. The 99.9% pure silver can then be labeled according to certain standards and trademarked for sale.
Here are some examples of approved silver bullions
American Eagle
American silver eagle coins are one of the few IRA-eligible coins with an affirmed 99.9% purity and .999% silver fineness. It holds the face value of $1 per coin, with each coin possessing 1 troy oz of 99.9% pure silver. It was originally issued in 1986, and the two sides bear the iconic Walkin liberty design and a heraldic eagle. There are plenty of use cases for your American silver eagle coins, especially in your precious metal IRA or an ordinary 401k that you want to diversify.
Canadian Silver Maple Leaf Coins
The Canadian silver metal is also IRA permissible for obvious reasons. It fits the bill with 99.99% purity and a 0.999 fineness. It is highly rated as one of the purest samples of silver worldwide. It comes out of the Royal Canadian Mint, the powerhouse of impeccable quality. They are known for producing strictly quality physical assets.
And this has made their famous Silver Maple Leaf coins the biggest premium silver bullion coin. It bears the image of her Royal Majesty, Queen Elizabeth. They are so popular everyone wants to buy them. They are a joy to add to your silver portfolio as they drive their own demand outside the general market.
Proof Silver American Eagle Coins
The collectible coin is one of the approved silver coins for an independent retirement account. It is another silver bullion coin minted only in the United States but severely limited in the number available. A 1 troy oz coin is 99.9% pure and available only in the US. It is distinguished from the other coins by its distinct minting process, which gives it a lovable mirror-like appearance.
Austrian Silver Philharmonic Coins
The silver philharmonic coin is a sister to the Austrian Vienna Gold coin. Minting of the silver coin didn't start until 2008. It is one of the purest samples of silver in the world and bears striking similarities to the Gold Coin series. It is minted in the royal Vienna Mint, producing masterful art engravings. A single Austrian Philharmonic Silver Coin is worth €1.5 and is the perfect premium bullion coin.
You can choose the following silver bullion coins that are IRA-approved:
To know more about the IRA-approved gold bullion, check out Gold IRA.
Frequently Asked Questions (FAQs)
Is silver bullion valuable?
Yes, it has intrinsic value and can be used to produce new technology and a store of value.
What is the difference between Bullion and silver?
The value of bullion is dependent on its silver content. Silver on its own can be used as a currency as currencies made using silver are backed by the government and carry a high value per ounce.
What is silver bullion?
It refers to pure silver that is kept in coins, ingots, and bars or in any other liable form.