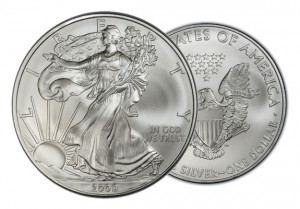 If you're interested in an investment that has a history of maintaining its value and even growing in value in even the shakiest of economic conditions, consider precious metals. Gold and silver are appealing to many investors for their liquidity and global worth. When investing in precious metals, one option is the purchase of bullion. Both gold and silver bullion are available.
Bullion is bulk silver in the form of coins, bars, or other shapes that is traded on the commodities market. The requirements for silver bullion are quite strict; silver bullion must meet purity standards of 99.9 on the London Bullion Market. Although there are other trading locations — such as Zurich and New York — London remains the top trading destination for both gold and silver bullion.
Reasons to Buy Bullion
Whether you're a new investor or have years of experience, bullion can be a solid addition to your existing investment portfolio. Many investors choose bullion as a hedge against currency collapse. For example, if the U.S. dollar lost all of its value, investors holding silver bullion would still have something to fall back on. Silver can be used for functional purposes or as a backup to paper currency. Silver has historically proven that it gains value over time, which makes it a wise investment alongside gold.
Should You Buy Silver Coins or Bars?
Many investors would advise you to purchase bars instead of coins. Bars are uniform in shape and size when purchased from the London Bullion Market; as are gold bars. And, as previously mentioned, these bars must meet purity standards of 99.9 percent. Of course, there are reasons why you might choose to buy coins. Many collectors who are interested in world currencies choose to purchase silver coins. Silver Eagles and Kookaburras are two examples of popular silver coins.
How is Silver Turned into Bullion?
Silver grain is melted at temperatures in excess of 1600 degrees, which transforms it from a solid to a molten liquid. From there, the liquid silver is poured into molds, then sized into evenly-proportioned bars. Silver bars are stamped with identifying information, including purity marks. When it comes to purity testing, high-tech equipment is used to ensure incredible accuracy. Silver bullion is weighed in troy ounces, which is the same measurement used with gold bullion.
The Basics of Silver Bullion Investing
Silver and gold are both thought by experts to be strong investments in any economic climate. If you'd like to start investing in silver bullion, the London Bullion Market offers the finest silver bullion. Both silver and gold have historically risen in value, so you can feel secure when backing your pension or other retirement plan with precious metals.
Sources:
http://www.coin-rare.com/what-is-silver-bullion.aspx
Although the information in this commentary has been obtained from sources believed to be reliable, American Bullion does not guarantee its accuracy and such information may be incomplete or condensed. The opinions expressed are subject to change without notice. American Bullion will not be liable for any errors or omissions in this information nor for the availability of this information. All content provided on this blog is for informational purposes only and should not be used to make buy or sell decisions for any type of precious metals.