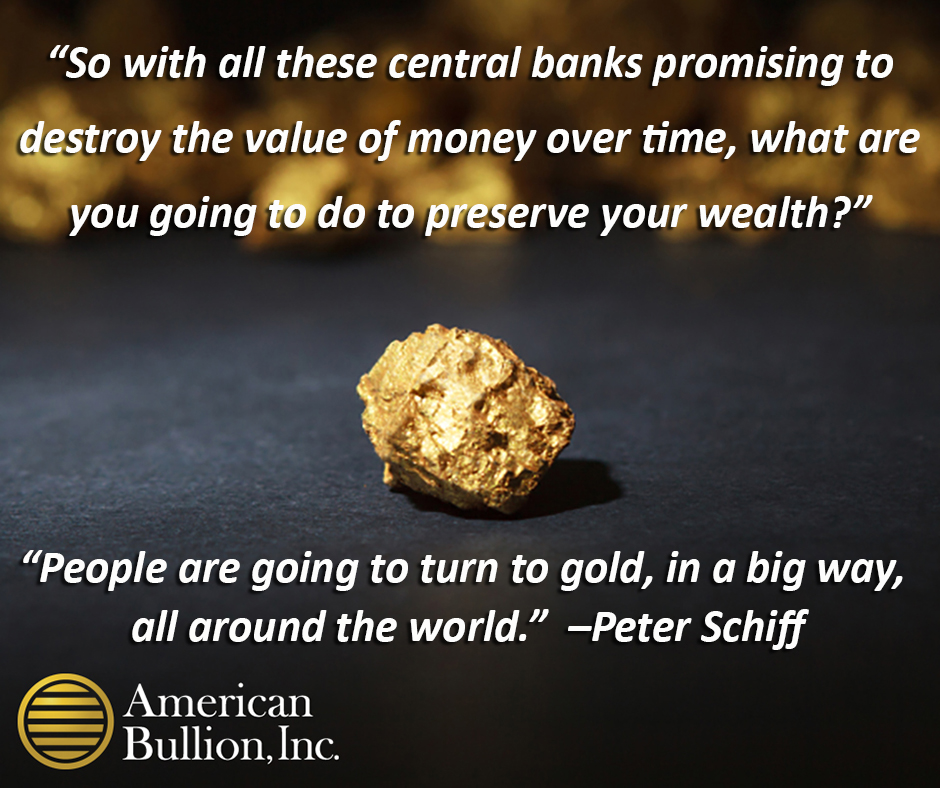 Peter Schiff, CEO of Euro Pacific Capital and long-time proponent of gold, is not buying the dollar hype.
Speaking to Aaron Task on Yahoo Finance's Market Pulse, Schiff projected that the U.S. dollar is going to collapse, and "people are going to turn to gold, in a big way, all around the world."
See below for video of the interview as well as a summary of Schiff's major points regarding the dollar, central banks, and gold.
On the dollar
The U.S. dollar is currently at a 12-year high against the euro, but it's due to speculation based on a false narrative:
"I'm surprised that it rallied this much, but it doesn't mean that it's permanent. Because you have everybody speculating. The conventional narrative is that the Fed is going to be raising rates and the rest of the world is going to be easing, and it's based on that that speculators have bid up the dollar."
The dollar's strength is not being supported by fundamentals. Based on the fundamentals, it should actually be weak right now:
"The fundamentals are weak. But the fundamentals don't matter right now with this false narrative, and the traders are running with it like a horse with a bit in its mouth."
We could see a repeat of what occurred in 2007-8 when traders were betting on subprime mortgages:
"The question is, how many banks are going to fail when the dollar collapses?"
The dollar will crash:
"I think when the dollar finally implodes, when people figure out the real state of our economy and what the Fed is really going to do, then I think all those games are going to be revealed, because they're being obscured right now by the overvaluation of the dollar. But I think the real move in the dollar is going to be a crash."
On central banks
Central banks around the world are creating inflation:
"And you've got even the soundest central banks around the world deliberately creating inflation with negative interest rates, promising to debase their currency. … It's like firemen coming to your house to set fires, not put them out."
On gold
Schiff is "absolutely" bullish on gold:
"Traders are bearish on gold because they're bullish on the dollar, and they believe the Fed's going to raise rates. When they realize that they're not, and they have to rush to unwind these short trades and get back out of the dollar, if you thought gold went up when the Fed did QE1 and QE2, wait until you see what's going to happen when they do QE4."
Gold is "going a lot higher":
"I think it's going a lot higher. I mean I've thrown out numbers – $2,000, $5,000 – ultimately, I can't tell, because there's no real ceiling on gold, because there's no floor on the dollar. When people realize that we can never raise rates and it's permanent QE, and the Fed can never shrink its balance sheet and it has no ability to control inflation, ultimately it has to let it run rampant – then there's no place to hide."
People will turn to gold as a safe haven:
"So with all these central banks promising to destroy the value of money over time, what are you going to do to preserve your wealth? People are going to turn to gold, in a big way, all around the world."
The dollar crash could happen within a decade, and gold could pay off hugely if or when it occurs:
"I don't think it's going to take decades. I'm surprised it's taken this long, but I do believe that the fact we've had to wait so long, it's an even bigger payday, because all the problems have gotten bigger because we've been able to delay the day of reckoning."
Preserve your wealth with gold
There is a reason people turn to gold when central banks, inflation, and the markets feel out of control: central banks can always print money, but they can never print gold. Over the last 100 years, the U.S. dollar has lost approximately 96% of its purchasing power. Gold, on the other hand, has seen a 157% increase during the same time frame.
Therefore, the answer to Peter Schiff's question "what are you going to do to preserve your wealth?" is buy physical gold and silver. Call American Bullion today at 1-800-326-9598 if you'd like to add gold to your retirement account or buy coins and bars for secure delivery to your home. Our knowledgeable precious metals specialists will answer any questions you may have.
About American Bullion
American Bullion, Inc. specializes in converting your IRA, old 401k, or other qualified retirement account to a self-directed IRA capable of holding physical gold coins and bars, known as a Gold IRA or Precious Metals IRA. We've pioneered a system to handle all the details for you, tax-free and hassle-free. Want to buy gold and silver and store it yourself, outside of your retirement account? Simple – we've insured and shipped millions of dollars' worth of gold, silver, platinum, and palladium to thousands of homes just like yours. As a U.S. Mint nationally listed dealer, we strive to be the best Gold IRA company in the industry and guarantee every transaction is fast, simple, and secure. See our American Bullion Reviews page for testimonials from our many satisfied clients.
—
Although the information in this commentary has been obtained from sources believed to be reliable, American Bullion does not guarantee its accuracy and such information may be incomplete or condensed. The opinions expressed are subject to change without notice.

American Bullion will not be liable for any errors or omissions in this information nor for the availability of this information. All content provided on this blog is for informational purposes only and should not be used to make buy or sell decisions for any type of precious metals.