What are the top financial concerns of everyday Americans? A recent poll by Gallup answers this question and may be surprising to some.
In Gallup's annual Economy and Personal Finance poll conducted April 3-6 of this year, participants were asked how concerned they were about nine different financial matters on a scale of "very worried," "moderately worried," "not too worried," or "not at all worried." Zero Hedge created a well-formatted visual representing the poll results: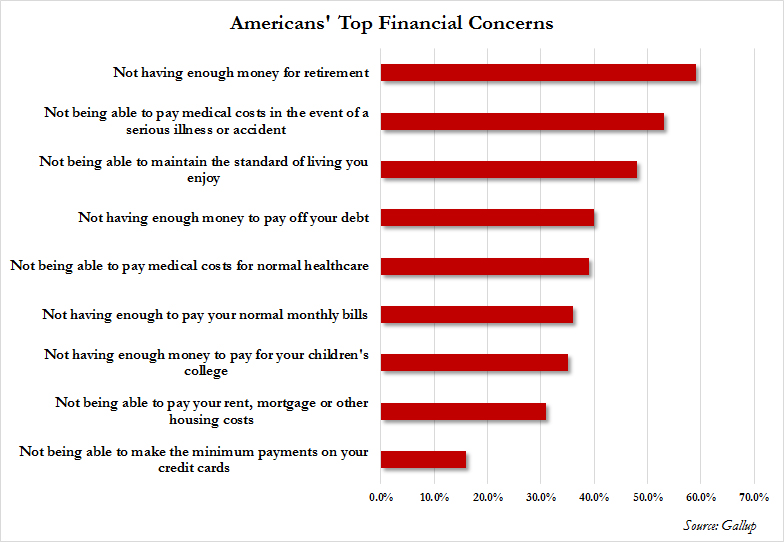 As shown above, the number one financial concern of Americans based on this poll is not having enough money for retirement. Some may be surprised, based on the volume of recent media coverage, that healthcare costs are not number one but rather rank second and fifth. Even a more generalized financial matter such as "not having enough money to pay off your debt" ranks only fourth. Other heavily reported-on concerns such as paying for your children's college and making your mortgage or other housing payments rank in the bottom half.
What is interesting about the highest-ranking concern in this poll is that a majority of Americans reported being "very" or "moderately" worried about their retirement savings each year since 2001 – a time frame in which we have seen both good and bad economic times.
When broken down by age, the highest concerns vary among age groups. Middle-aged Americans – the broadest age group represented in the poll, spanning age 30 to 64 – are the ones most worried about retirement, with 7 out of 10 worrying they have not saved enough. This is in line with previous findings.
We see here that despite what media coverage may depict, the number one financial concern of Americans may be something different. If you are concerned about taking the right precautions to ensure you have enough money for retirement, read our summary of 9 Ways to Get the Most Out of Your Retirement Plan. And Americans should not only be concerned about saving enough, but also making the right investments. Assets backed by paper currency such as stocks, bonds, and mutual funds are subject to governmental and corporate decisions, price instability, and inflation. In other words, the value of your retirement savings is not secure when in the form of U.S. dollars alone. Consider diversifying your retirement portfolio with precious metals such as through a Gold IRA. Gold will always have intrinsic value and does not depend on credit to function. To learn more, contact American Bullion today at 1-800-326-9598 to speak with a precious metals specialist.