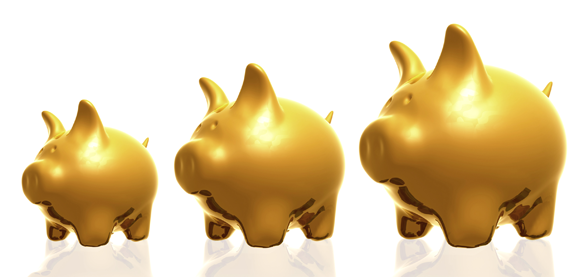 This week in gold, Ron Paul explained to CNBC why he still believes in gold, India continued its deep culturally-embedded love affair with the yellow metal, high levels of geopolitical and economic woes shook markets, and a study gave insight into how much is enough to retire happy. Looking back at the week, we are reminded of the relevance and importance of gold on a global scale.
Former Presidential Candidate Ron Paul on Why He Still Believes in Gold
Dr. Ron Paul, former U.S. Representative and one of the most important voices of America's libertarian movement, was interviewed by CNBC's "Futures Now" on July 29 about his outlook on gold. On Monday, we recapped the important points he made about gold and its relationship with monetary policy. His statements emphasized gold's reliability as a long-term investment, as opposed to paper currencies that governments can print and devalue. 
India Loves Gold
According to the Swiss government, Switzerland's total value of exported gold and silver bullion in the month of June was 3.9 billion Swiss franc ($4.3 billion USD), of which India accounted for 1.63 billion francs ($1.8 billion USD, or 42%). In India gold is used primarily in making jewelry, which is considered a store of wealth and has an important role in many rituals, including weddings. Forbes writes that "India's appetite for gold defies market conditions." Find out why in our blog on India's strong appetite for gold.
Gold Rallies on High Levels of Geopolitical and Economic Uncertainty
Gold reached its highest price in almost two weeks on Wednesday, as investors worried about geopolitical tensions and the economic landscape in Europe. Investors have been keeping an eye on several different stories, including Italy's recession, more trouble between Russia and Ukraine, and the ongoing Israel-Gaza conflict. Adding to these woes, a Wall Street Journal/NBC News poll found evidence of widespread economic anxiety among Americans.
Is There a "Magic Number" for Retiring Happy?
Most people know the importance of preparing and saving for retirement, but how much is enough? Or perhaps more importantly, how much is enough to retire happy? The answer may vary from person to person, but a survey conducted by financial planner Wes Moss offers some valuable insight. Read more about Moss' findings on money and happiness in retirement.
—
Despite whatever may be happening in the world, remember that gold, unlike paper currency, is a tangible investment that will always be there when you need it. Geopolitical conflicts and governmental decisions out of your control can devalue currencies and cause markets to crash, while gold tends to rise in value whenever there is economic or global uncertainty. If you would like to safeguard your retirement portfolio from such events, the IRS allows you to add physical gold and other precious metals to your individual retirement account by opening a Gold IRA. Call American Bullion at 1-800-326-9598 to speak with a precious metals specialist and be on your way to protecting perhaps your most important investment: your financial future.