Earlier this week we posed the question of whether gold is currently undervalued. No one can know for certain, but some of the data and charts floating around may suggest so. Now, an author for Seeking Alpha is posing the same question for what is often considered gold's less-attractive cousin: silver. The author titles the article "5 Reasons Why It's Time To Buy One Of The World's Most Undervalued Assets: Silver", which sums up his current opinion on the metal. Below is a summary of those five reasons.
Industrial demand for silver will increase as the economy grows.
Silver has far and wide industrial uses, including in growing sectors such as electronics, healthcare, automobiles, and green technology. The author references a recent Bloomberg article which states "This year demand from the electronics industry will drive growth, Krebs said. Industrial uses for silver, including electronics and photography, represent about half of total demand." The piece also mentions that the world's largest silver mine in Australia will be ending production, reducing supply, and availability of scrap silver is falling.
Charts and data point to silver bottoming out recently, meaning it may now be ready for a rebound.
While past performance is not indicative of future results, historically silver has bottomed out at around $18 an ounce and then rebounded. See the chart below for a visual representation of this trend: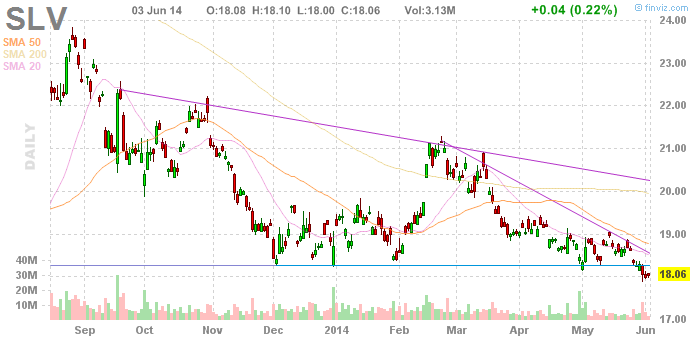 "Cyclical inflation" may be coming. 
Despite Fed chairwoman Janet Yellen downplaying the latest inflation numbers by calling them "noise", top analysts including three from Deutsche Bank do not agree. The analysts think we may see a cyclical upswing in inflation soon, pointing to the Fed's negative funds rate despite almost full employment as a hint that the Fed may not be trustworthy right now.
Silver has too many short trading positions right now, and they are pushing down the price.
Shorting a commodity or stock means you are betting that the price will go down in the future, in which case you will make money. Many silver investors are doing this right now and crowding the market, which is suppressing the price of silver. Additionally, at current levels some silver mines are better off cutting production, and new mines in high-cost areas are better off putting it on hold altogether. This means the silver supply will soon be much lower, which will drive up the price. Therefore, silver is currently at a low price that may not be sustained for long.
Silver demand is rising.
The iShares Silver Trust (SLV), an ETF, recently saw a 400% surge in its average daily volume of trades. Higher demand and lower supply usually translate to higher prices.
—
Again, we cannot say for certain whether gold, silver, or any asset is undervalued or overvalued – the market is unpredictable and there are simply too many variables to consider. What we can tell you is that like all precious metals, silver has a proven track record as a hedge against inflation and a long-term holder of wealth and value. Take advantage of this as well as silver's potential by opening a Silver IRA with American Bullion. A Silver IRA can help you protect your retirement funds from devaluation of paper assets backed by the U.S. dollar. Call us today at 1-800-326-9598 to speak with a precious metals specialist.