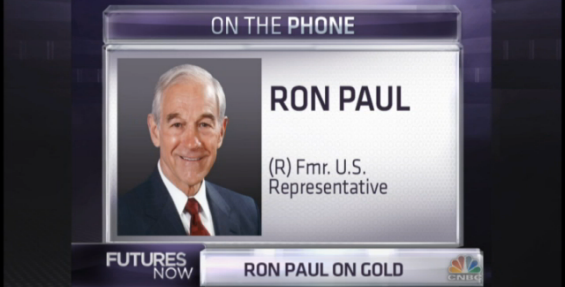 Dr. Ron Paul, former U.S. Representative and one of the most important voices of America's libertarian movement, was interviewed on CNBC's "Futures Now" about his outlook on gold. In the interview, which took place on July 29th, Dr. Paul remarked on the rise in the price of gold over the last few decades, and what that says about the economy:
"I remember watching gold when it was $35 an ounce, and we thought that if it ever hit $100, the world would come to an end…and then $1,000! As long as we continue to do this [print money], it could go to infinity, because when people just leave the dollar, who knows what? But that won't happen, we'll finally wake up and do something. But if we can keep this together, if the money managers can keep it together and it doesn't collapse, yeah it's going to keep creeping up."
He added that in the long term, as long as governments continue to print money and devalue currencies, "gold always goes up against that currency." He admitted that gold may seem weak right now, but it is up about $100 on the year. An article by Keith Weiner in Forbes expanded on Dr. Paul's statements, reminding investors that gold functions best as a long-term investment rather than a short-term vehicle for profit.
Dr. Paul also spoke with CNBC about the real value of the stock market, warning that "There's a lot of inflation in the stock market. I think there's a bubble there." He believes the current growth in the stock market is not being supported by real growth in the economy. "The growth isn't there. The only thing that grows is the debt, and just think about how much money they have to create value in the stock market," he said.