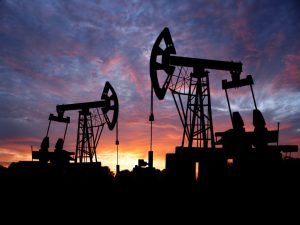 As much as lower oil prices are being appreciated at the gas pump, its effect on the global economy is nothing short of cataclysmic. Countries like Algeria, Libya, Nigeria and Venezuela depend on oil production for their very well-being. The $30 per barrel price we touched on earlier this year nearly bankrupt these countries. The current $45 range is hardly an improvement. These countries need $120 per barrel to be profitable ($180 in the case of Venezuela).
Saudi Arabia is the leader of OPEC and is currently over-producing in an effort to drive Russia out of competition for the Asian market. The Russian budget was originally based on a benchmark of $80 per barrel, so it's been a costly competition to this point. Saudi Arabia, on the other hand, has the ability to carry this waiting game on indefinitely.  Initially, Russia had cut back exports to Asia, just in advance of the ruble's collapse. With the bulk of damage already being absorbed, the Kremlin decided once again to pursue the Asian market.
A direct connection can be identified, between a lack of access to energy and the success of terrorist organization recruitment. Poverty and despair create a vacuum that ISIL, ISIS, or any other acronym can successfully fill, with a financial solution. It's not even a matter of choice, rather survival. An OPEC meeting has been scheduled for September 26-28, but few analysts believe that production cuts will result. It seems more likely that OPEC will continue to maintain increased output, in order to defend its share of the oil market.
Meanwhile, countries around the world continue to suffer, as Russia and Saudi Arabia carry out this sick game of chicken. Although, you don't need an MBA in business to realize that Saudi Arabia holds all the cards. It's really just a question of time before Russia is forced to capitulate, either due to cost overruns, declining extraction rates, or an increasingly desperate lack of both technical expertise and working capital. As wear and tear continues on the infrastructure of the remainder of the oil-producing world, a poverty and unemployment time bomb continues to tick down, as the cost of maintenance and repair continues to compound.
These activities will directly contribute to the global economic slowdown and continue to fuel the increasing value of gold and other precious metals, both as an investment and especially as a hedge against falling currencies and other financial instruments.
Although the information in this commentary has been obtained from sources believed to be reliable, American Bullion does not guarantee its accuracy and such information may be incomplete or condensed. The opinions expressed are subject to change without notice. American Bullion will not be liable for any errors or omissions in this information nor for the availability of this information. All content provided on this blog is for informational purposes only and should not be used to make buy or sell decisions for any type of precious metals.