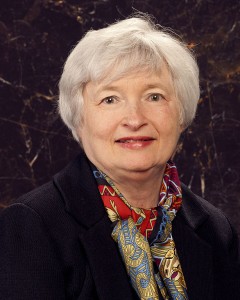 Speaking at an economic summit in Jackson Hole, Wyoming featuring top economists and central bankers from across the globe, U.S. Federal Reserve Chairwoman Janet Yellen remarked that "the labor market has yet to fully recover" from the 2007-8 financial crisis. See the full text of her speech. 
Other important remarks Yellen made include:
Wage growth has been sluggish, leading to a phenomenon she called "pent-up wage deflation".
Regarding her outlook on the labor market, she said "

There is no simple recipe for appropriate policy in this context, and the FOMC is particularly attentive to the need to clearly describe the policy framework we are using to meet these challenges."

Debate among Fed policymakers has surrounded when interest rates should be raised, considering the economy is nearing full employment and stable inflation.

19 labor market indicators tracked by the Fed suggest the decline in the unemployment rate overstates labor market improvement. 

"The Committee will be closely monitoring incoming information on the labor market and inflation in determining the appropriate stance of monetary policy." (i.e. timing of interest rate hike will depend on pace of economic recovery)
Wall Street was little changed following the comments, and gold has remained about where it was prior to the speech (+0.2% to $1,278 per ounce) – not surprising since Yellen's remarks were in line with expectations held earlier in the week.
As we noted on Thursday, higher interest rates usually put downward pressure on gold. However, many analysts still have a positive outlook on gold. For further reading, consider giving the following articles a look: