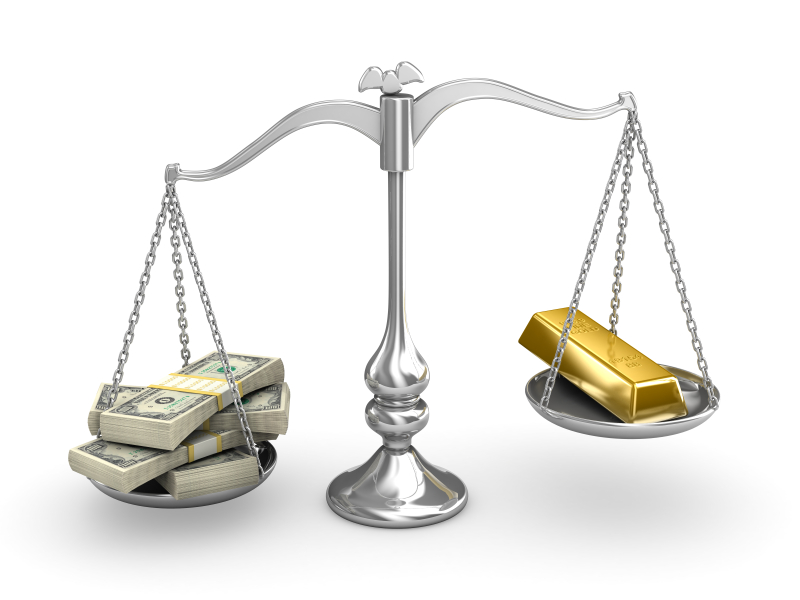 The World Gold Council (WGC) believes gold is still a valuable portfolio component even in times of a strong U.S. dollar and rising interest rates.
The organization released the latest issue of its Gold Investor publication on Thursday, which re-examines gold's relationships with the dollar and interest rates. Juan Carlos Artigas, director of investment research at the WGC, authored the report. It serves as a reminder to investors that there are many different factors that drive the price of gold, and over-simplification of these factors can be misleading.
In Artigas' words:
"Gold's apparent complexity should not deter investors; it makes gold unique."
Below is a summary of the points made regarding gold and the dollar, and gold and interest rates.
Gold's relationship with the U.S. dollar is changing
Although the dollar is certainly an important driver for gold, it is by no means the only driver. In addition, gold prices rise more on a weak dollar than they fall on a strong dollar.
Artigas writes that the relationship is not as strong as it once was, and the strong dollar is not necessarily bad news for gold. Here are a few of the reasons given for why the dollar's influence on gold is diminishing:
The gold price may be expressed in dollars, but it is not dictated by the dollar. The cost of gold in whatever currency the investor is using to buy it is often more important than its cost in U.S. dollars.
The gold supply is constrained and will likely remain so, which means there is less dependence on demand to keep gold prices up.
The dollar is losing its status as the world's reserve currency, as more central banks are buying gold and foreign currencies instead.
The gold market is increasingly shifting to the Eastern world, particularly Asia. In 2013, Asian gold demand made up almost 80% of global physical demand.
The report also makes a very important point for readers of this blog:
"Gold's portfolio attributes outweigh the effect of a rising US dollar. Our analysis shows that investors still benefit from strategically including gold in periods when the dollar rises, even under conservative assumptions for gold returns and bullish scenarios for US equities and bonds." [emphasis added]
Gold's relationship with interest rates is also changing
Like gold and the dollar, the relationship today between gold and interest rates is not as strong as it once was, and is more complex than it appears. The author gives two reasons why the WGC believes higher interest rates will not have a devastating effect on gold:
Rising interest rates tend to put downward pressure on investment demand, but not all gold demand is investment demand. Actually, jewelry and technology demand make up almost 60% of annual physical gold demand. In the Eastern world, where jewelry and technology demand is more prominent, gold is actually positively correlated with interest rates. Central bank demand is also not as sensitive to interest rates.
The argument that interest rates are bad for gold is based largely on gold's performance in the 1970s and 80s, a time when both the economic environment and the gold market were much different than they are today. Therefore, it is not an accurate comparison. In fact, the WGC found in their analyses that once these variables are accounted for, the real interest rate and gold prices do not have a statistically significant relationship.
In addition, the WGC's research shows that even in higher interest rate environments, gold "has been reliably effective at diversifying investment portfolios and reducing risk." All of this considered, the WGC believes gold remains a valuable portfolio component even if interest rates rise.
Feeling more confident about buying gold in today's economy? Call American Bullion today at 1-800-326-9598 to speak with a precious metals broker about adding physical gold to your portfolio, either through a Gold IRA or a cash purchase for secure home delivery. You may also request a Free Gold Guide by submitting the form at the top of this page.