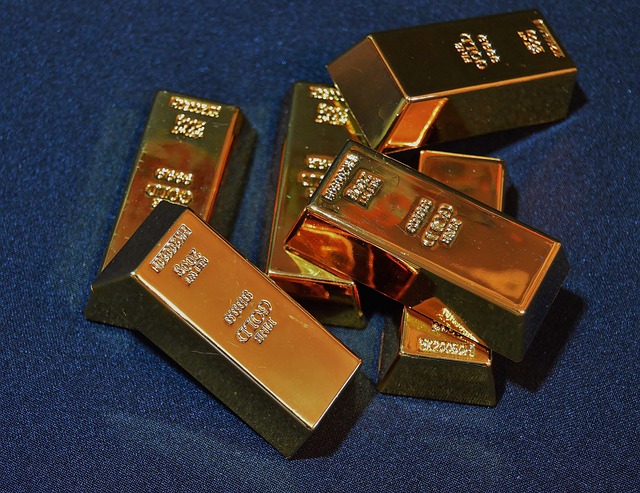 "Bad news is good news for gold", as the saying goes, and Wednesday was no exception.
New numbers from the Commerce Department showed disappointing April retail sales, boosting expectations that the Fed will wait to raise interest rates. In response, COMEX gold jumped by $25.80 (2.2%) to close at a five-week high of $1,218.20/oz. Silver also had an impressive gain of 4.2% to finish at $17.22/oz. Meanwhile, U.S. stocks fell flat and the dollar had its worst day in a week.
The retail sales data showed Americans remained frugal with their spending in April despite lower gas prices, continuing a trend that has been intensifying since August of last year. Total retail sales were flat with just a 0.1% gain, while sales minus automobiles and gasoline rose 0.2% against an expected 0.4%. More was spent at restaurants and online, but less on automobiles, home furnishings, electronics, and fuel.
Retail sales over the past 12 months have fallen to a rate of 0.9%, the smallest 12-month gain since the end of the Great Recession in October 2009 – a fact that should alarm anyone.
At the same time, the global sell-off in bonds continues. According to Dow Jones Business News, "No one knows for sure what caused the great bond market rout of the past few weeks. More than $450 billion of value has been wiped out. … Eurozone bond markets have given back almost all the gains that they had made since the start of the year while U.S., U.K. and Australian bonds have also been caught up in the turmoil." [emphasis added]
Economic uncertainty and the possibility of a major stock market correction may be out of your control, but what you can control is how you protect your wealth. It may be the right time to take some of your stock profits off the table and move a portion of your wealth into gold. Physical gold can store your wealth and hedge your portfolio against a major correction. Call American Bullion today at 1-800-326-9598 or request a Free Gold Guide to find out how easy it is to own gold.
SOURCES
http://www.marketwatch.com/story/gold-pops-above-1200-after-weak-retail-sales-2015-05-13
http://www.nasdaq.com/article/bond-market-rout-born-in-the-usa-20150513-01256
About American Bullion
American Bullion, Inc. specializes in converting your IRA, old 401k, or other qualified retirement account to a self-directed IRA capable of holding physical gold coins and bars, known as a Gold IRA or Precious Metals IRA. We've pioneered a system to handle all the details for you, tax-free and hassle-free. Want to buy gold and silver and store it yourself, outside of your retirement account? Simple – we've insured and shipped millions of dollars' worth of gold, silver, platinum, and palladium to thousands of homes just like yours. As a U.S. Mint nationally listed dealer, we strive to be the best Gold IRA company in the industry and guarantee every transaction is fast, simple, and secure. See our American Bullion Reviews page for testimonials from our many satisfied clients.
—
Although the information in this commentary has been obtained from sources believed to be reliable, American Bullion does not guarantee its accuracy and such information may be incomplete or condensed. The opinions expressed are subject to change without notice.

American Bullion will not be liable for any errors or omissions in this information nor for the availability of this information. All content provided on this blog is for informational purposes only and should not be used to make buy or sell decisions for any type of precious metals.