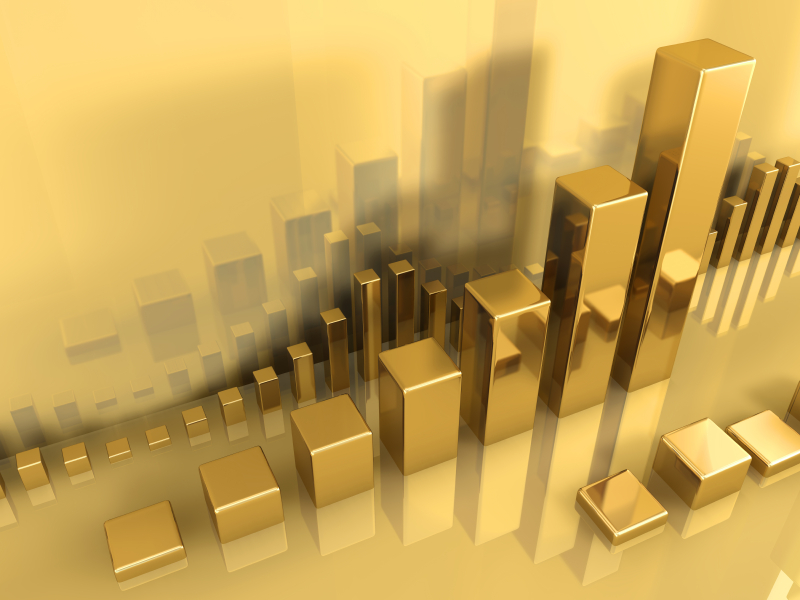 Gold continued its rally Tuesday, hitting a three-week high as investors speculated on the Federal Reserve's next move. The Fed concludes its two-day monetary policy meeting on Wednesday.
"The last several days have given investors fresh reasons to buy gold," writes the Wall Street Journal.
Spot gold rose 0.9% to $1,213.90/oz. on the COMEX, the highest price since April 6th. Gold has risen by over $30 in the last two days.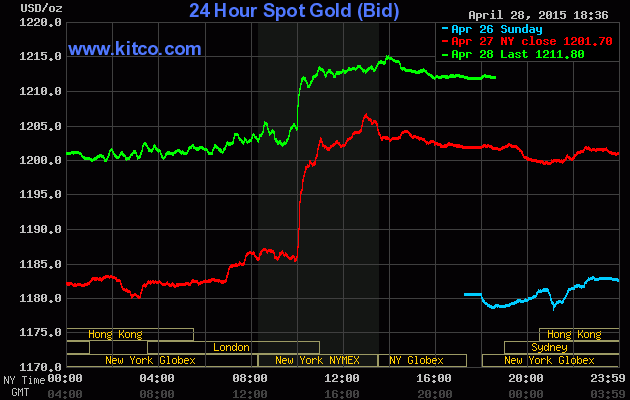 All eyes on the Fed
As the Fed gets ready to conclude its two-day monetary policy meeting on Wednesday, investors are watching closely for any clues regarding interest rates. After last week's lower-than-expected data regarding housing, employment, and durable goods orders, most investors are expecting the central bank to keep interest rates low until Fall at the earliest. Weak consumer confidence data released Tuesday strengthened that view, as the Fed has stated it will only raise rates if the economy shows enough strength and improvement.
Consumer outlook on business and jobs fell by 0.8% and 1.5% respectively, reports the Conference Board. April's Consumer Confidence Index measured at 95.2, down from 101.4 in March and lower than economists expected. The Present Situation Index fell from 109.5 in March to 106.8 in April.
The disappointing data and expectation of a dovish Fed statement gave gold a lift. The The Wall Street Journal writes:
"The last several days have given investors fresh reasons to buy gold. Prices for the precious metal notched their biggest gain since January on Monday, bouncing from a one-month low on worries over Greece's ability to pay its debts and the country's future in the eurozone. At the same time, gold consumption in China showed signs of recovering in the first three months of the year after plunging in 2014, as low prices attract interest from Asian buyers."
Get in on the gold rally by calling American Bullion today at 1-800-326-9598. Our precious metals specialists will show you how easy it is to own physical gold.
About American Bullion
American Bullion, Inc. specializes in converting IRAs, old 401(k)s, or other qualified retirement accounts from paper-based assets to physical gold coins and bars through a Gold IRA rollover or transfer. We've pioneered a system to handle all the details for you, tax-free and hassle-free. Interested in buying gold and silver and storing it yourself, outside of your retirement account? Simple – we've insured and shipped millions of dollars' worth of gold, silver, platinum, and palladium to thousands of homes just like yours. As a U.S. Mint nationally listed dealer, we strive to be the best Gold IRA company in the industry and guarantee every transaction is fast, simple, and secure. See our American Bullion Reviews page for testimonials from our many satisfied clients.
—
Although the information in this commentary has been obtained from sources believed to be reliable, American Bullion does not guarantee its accuracy and such information may be incomplete or condensed. The opinions expressed are subject to change without notice.

American Bullion will not be liable for any errors or omissions in this information nor for the availability of this information. All content provided on this blog is for informational purposes only and should not be used to make buy or sell decisions for any type of precious metals.