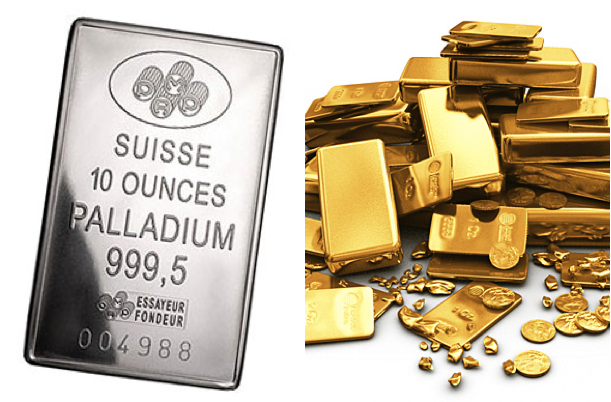 Geopolitical tensions aided gold in ending a two-day losing streak on Tuesday morning, but a stronger U.S. dollar and booming equities market curbed gains. Spot gold rose 0.3% to $1,301.14 an ounce, trading in a small $5 an ounce range indicating low trading volumes. 
Palladium, an oft-forgotten precious metal, made headlines by almost reaching its 13-year high of $900 an ounce, hitting $892 an ounce in early morning trading. Investors are worried about the ongoing conflict in Russia, a top producer of palladium, affecting supply. Additionally, demand has been strong due to the metal's industrial use in catalytic converters – devices used in automobiles to reduce pollution. When automobile demand and pollution concerns increase, so too does the price of palladium.
Western governments have accused Russia of arming separatist rebels in Ukraine, which Russia denies. In protest, the U.S. and the European Union have imposed economic sanctions on Russia, which Russia has responded to by banning Western food imports. The sanctions are taking an economic toll on both sides.
Also in the Russia/Ukraine headlines, an armed battle broke out in the center of the Ukrainian city of Donetsk, which was captured by rebels. Russian President Vladimir Putin is set to meet with Ukrainian President Petro Poroshenko next week for the first time in months in attempt to come to a diplomatic solution. 
Geopolitical tensions have helped gold rise 9% this year. Almost 12% of the world is currently at war.
Gold and other precious metals such as palladium provide a financial safe haven during times of widespread war and economic strife. Add them to your retirement portfolio to protect your most important asset: your financial future. Call American Bullion today at 1-800-326-9598 to speak with a precious metals specialist about converting your existing IRA or 401(k) to a Gold IRA. Piece of gold, peace of mind.