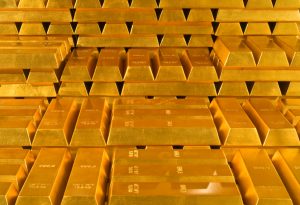 Central banks all over the world tried their best to keep a straight face as they pontificated about the virtues of their various quantitative easing efforts. But as 2016 progressed, even they realized that their hyperbole was having no effect and the gold train was leaving the station without them. So like the large gold ETF groups, they simply couldn't afford to be left behind. Both played catch up in very short order. Bloomberg reports that since bottoming to a seven year low in January, central bank holdings have increased to 1,822.3 metric tons, the most since December 2013. ETF holdings swelled 63.2 tons during the first two weeks of May, managing an increase every day.
Concerns with the Japanese and Chinese economies, combined with the growing list of countries resorting to negative interest rates has reduced the number of investment options, such that gold's investment attributes are providing almost as strong a reason to buy as its protection benefits. Bloomberg also reported that The World Gold Council estimates that nations are expected to buy 400 to 600 tons this year. Nevertheless, China, Kazakhstan and Russia, in particular, have become substantial and consistent buyers.
What are you waiting for? Central Banks are piling up for protection. Why don't you make gold part of your investment portfolio today? Give us a call today to get started. Allow our knowledgeable staff to answer any of your questions.
Although the information in this commentary has been obtained from sources believed to be reliable, American Bullion does not guarantee its accuracy and such information may be incomplete or condensed. The opinions expressed are subject to change without notice. American Bullion will not be liable for any errors or omissions in this information nor for the availability of this information. All content provided on this blog is for informational purposes only and should not be used to make buy or sell decisions for any type of precious metals