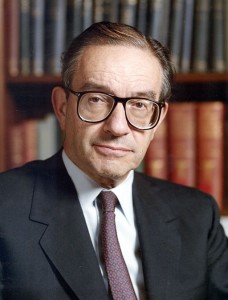 Former Federal Reserve Chairman Alan Greenspan has not been shy in his criticism of the Fed's current policy and his praise for gold's "special properties that no other currency, with the possible exception of silver, can claim." At the New Orleans Investment Conference in October of last year, he reportedly delivered a bombshell during private conversation with resource analyst Brien Lundin, stating that the Fed cannot end its quantitative easing (QE) and low interest rate policies without bringing some serious repercussions for the markets. Lundin revealed the details of that conversation recently in an interview with FutureMoneyTrends.com, which can be listened to below.
"Something big is going to happen"?
In Lundin's words, the exchange between himself and Greenspan at the conference went something like this:
"In private conversation I asked him, about the outstanding debts and my thesis that the debt load in the U.S. and in Western economies has gotten so great that there has to be some monetary depreciation. Specifically he said that the era of quantitative easing (QE) and zero-interest rates policies by the Fed…we really cannot exit this without some significant market event. By that I interpret it being either a stock market crash or a prolonged recession, which would then engender another round of monetary reflation by the Fed.
He thinks something big is going to happen that we can't get out of this era of money printing without some repercussions – and pretty severe ones – that gold will benefit from." [emphasis added]
When Lundin asked Greenspan where the gold price will be in five years, without giving any specific figures, he answered with "measurably higher".
Greenspan is not alone in this thinking. Nobel Prize-winning economist Robert Shiller spoke with CNBC last week and said he may move his funds away from U.S. stocks, which he believes are too pricey due to the Fed's low interest rates. Economist Peter Tenebrarum agrees, going so far as to say the U.S. stock market is at its most overvalued level in history.
Policies that pump money into the economy such as QE and low interest rates tend to make riskier, high-return investments such as stocks more appealing, sending the stock market into a bull run. But without enough real economic recovery and strength behind the bull run, stocks become overvalued. Now, with QE over, the market is no longer getting the boost it has enjoyed from this policy since 2008. And if the Fed does decide to raise interest rates – the second part of the money-pumping equation – the market could be in for a rude awakening.
Is the euro doomed?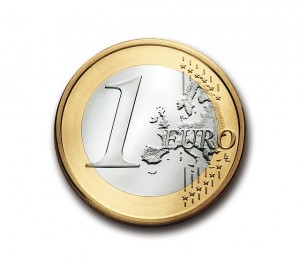 Greenspan evidently has another concern on his mind: the euro. He recently told the BBC that he predicts Greece will leave the euro, and that it may be the beginning of the end for the currency. "I don't see it being resolved without Greece leaving the Eurozone," he said. "It's just a matter of time before everyone recognizes that parting is the best strategy."
When asked if a breakup of the euro would lead to a global economic crisis, Greenspan said no, but said "Holding the system together is putting strains on everybody."
So what can you do to protect your paper-based investments from a potential stock market correction, another recession, or further crisis in the eurozone? Diversify your portfolio with physical gold or other precious metals. For more information, call American Bullion today at 1-800-326-9598 and speak with a precious metals broker, or request your Free Gold Guide.
About American Bullion
American Bullion, Inc. specializes in converting IRAs, old 401(k)s, or other qualified retirement plans from paper-based assets to physical gold coins and bars through a Gold IRA rollover or transfer. We've pioneered a system to handle all the details for you, tax-free and hassle-free. Interested in buying gold and silver and storing it yourself, outside of your retirement account? Simple – we've insured and shipped millions of dollars' worth of gold, silver, platinum, and palladium to thousands of homes just like yours. As a U.S. Mint nationally listed dealer, we strive to be the best Gold IRA company in the industry and guarantee every transaction is fast, simple, and secure. See our American Bullion Reviews page for testimonials from our many satisfied clients.
—
Although the information in this commentary has been obtained from sources believed to be reliable, American Bullion does not guarantee its accuracy and such information may be incomplete or condensed. The opinions expressed are subject to change without notice.

American Bullion will not be liable for any errors or omissions in this information nor for the availability of this information. All content provided on this blog is for informational purposes only and should not be used to make buy or sell decisions for any type of precious metals.