1. Spot Price Below $30 Per Ounce
In case you have not been watching the markets recently, silver just dropped below $30 per ounce. This metal has had no trouble trading above $30 in the past and it will very likely return to that. As a matter of fact, silver had dropped to $27 earlier this week and has already started to make a run towards the $30 mark. Don't let this be another one of those "wait and see" moments. Invest now.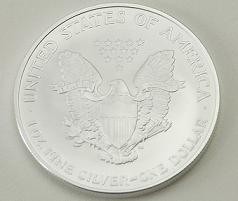 2. Learning About One Metal at a Time
Perhaps one of the best financial decisions you could ever make is to educate yourself about the precious metals market. However, this task can be somewhat daunting if you are constantly reading about gold and silver at the same time.
Start with silver and keep things simple. Many of the lessons you learn about silver will translate over into gold – lessons such as how the markets behave and how atmospheric changes happen. After you have mastered silver, gold is will be an easy transition.
3. Low Entry Point
Sometimes people simply want to get their feet wet with investing in precious metals. Silver allows you to do this because of its low price per ounce. With one simple call to American Bullion you are able to purchase a few thousand dollars of silver instantly over the phone. By doing this, you own the actual commodity and are safeguarding your wealth from future inflation.
4. Owning Assets You Can Hold in Your Hand
By holding a few bars of silver in your bare hands a certain understanding will set in. Most people have a strong realization in this moment. The fact is, you have more power and more control over your financial situation by possessing this metal. By owning these tangible assets you are safeguarding your money from banks, inflation, and the unstable stock market.
5. Thinking About the Future
How will your wealth be passed on to future generations? Do you really feel comfortable having your money tied up in incompetent banking systems? Let's face it: the stock market has proven to be more and more unstable as the years go on. When it comes time for wealth to be passed on to the next generation, keep it simple. Hand over your wealth in the form of something tangible.
– – – – – – – – – – – – – – – – – – – – – – – – – – – – – – – – –
American Bullion specializes in adding gold and silver to retirement accounts. If you have a question or would like to know more about your investment options, please call American Bullion at 1-800-326-9598 to speak with a precious metals specialist.