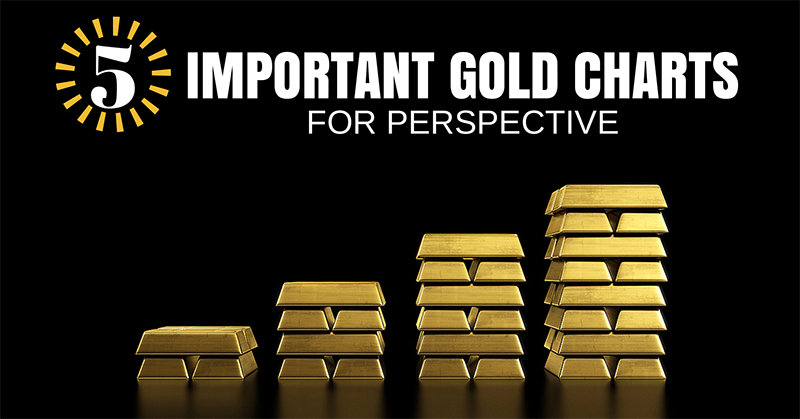 Current or prospective gold owners often focus on gold's day-to-day price fluctuations and lose sight of the bigger picture. To gain perspective, it can be helpful to look at gold's performance over a longer period of time or compare it to other data. Below we've presented five essential gold charts to help you put the yellow metal into perspective. Remember that past performance is not indicative of future results.
1. Price of Gold in U.S. Dollars, 1915-present

Notice an ounce of gold cost just under $20 in 1915.
2. Gold vs. U.S. Dollar Index, 1970-present
As you can see above, gold and the U.S. dollar traditionally have an inverse relationship. When the dollar is expensive, gold is cheap.
3. Gold vs. S&P 500 Index, 1970-present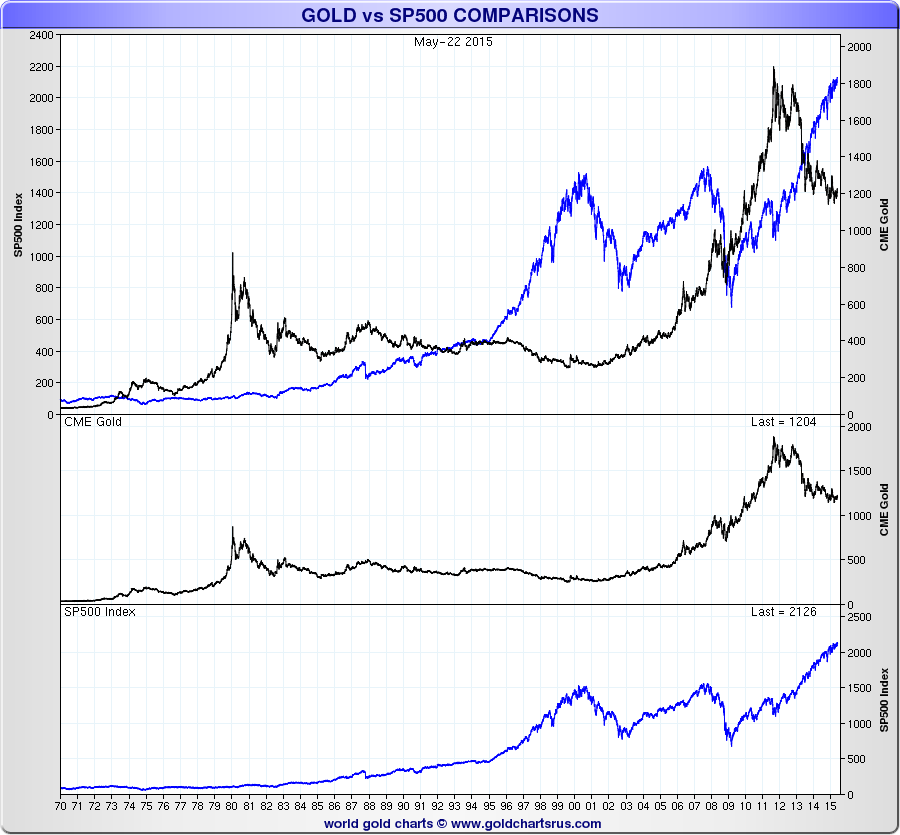 4. Gold vs. U.S. Money Supply, 1981-present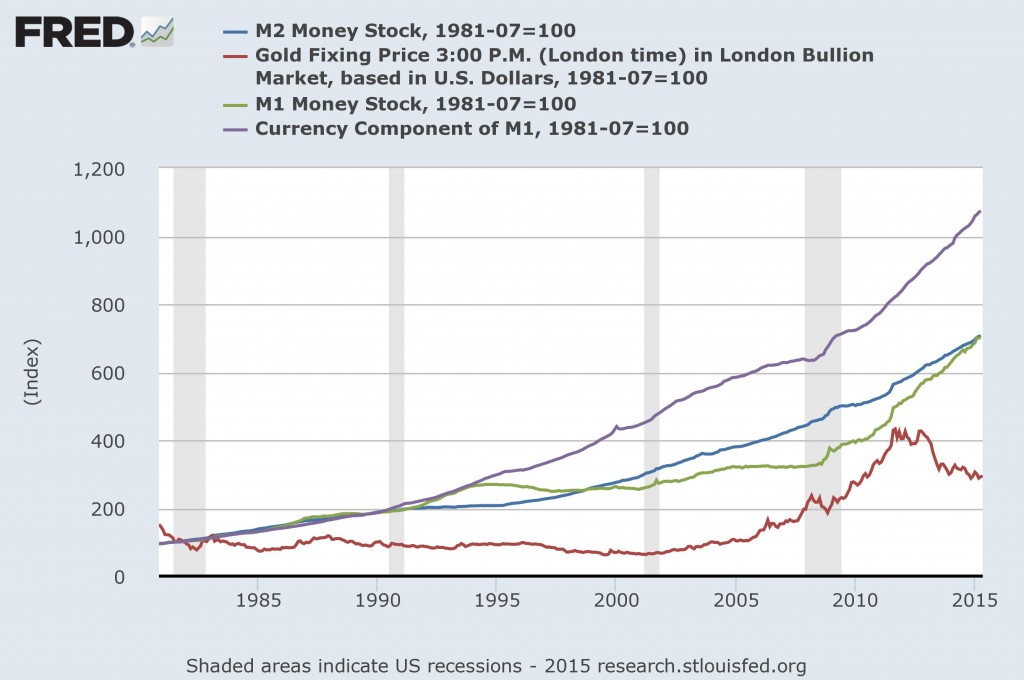 5. Gold vs. U.S. Debt & Debt Limit, 1970-present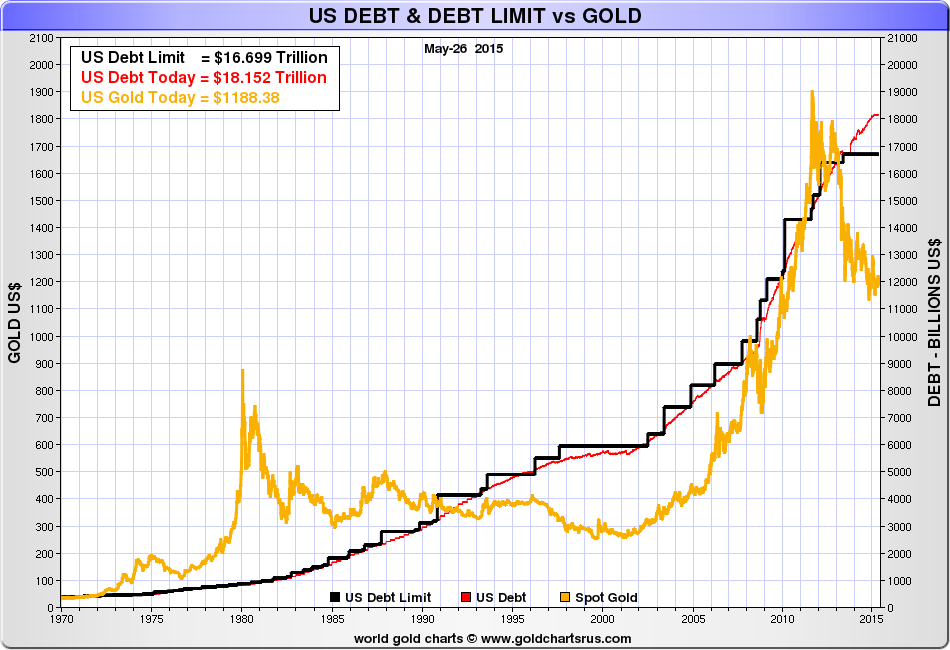 Frank Holmes, CEO of U.S. Global Investors, argues that the chart above indicates gold is currently undervalued:
"Between 2000 and 2015 the U.S. debt and the gold price have had a positive correlation of 93.7%. However, since 2012 the relationship has decoupled. To get back to the correlated relationship, the gold price would have to return to around $1,800, implying that gold is undervalued at current levels."
These charts serve as a reminder to think long-term about gold and always be looking at the bigger picture. Call American Bullion at 1-800-326-9598 today to find out how simple it is to own gold.
About American Bullion
American Bullion, Inc. specializes in converting IRAs, old 401(k)s, or other qualified retirement plans from paper-based assets to physical gold coins and bars through a Gold IRA rollover or transfer. We've pioneered a system to handle all the details for you, tax-free and hassle-free. Interested in buying gold and silver and storing it yourself, outside of your retirement account? Simple – we've insured and shipped millions of dollars' worth of gold, silver, platinum, and palladium to thousands of homes just like yours. As a U.S. Mint nationally listed dealer, we strive to be the best Gold IRA company in the industry and guarantee every transaction is fast, simple, and secure. See our American Bullion Reviews page for testimonials from our many satisfied clients.
—
Although the information in this commentary has been obtained from sources believed to be reliable, American Bullion does not guarantee its accuracy and such information may be incomplete or condensed. The opinions expressed are subject to change without notice.

American Bullion will not be liable for any errors or omissions in this information nor for the availability of this information. All content provided on this blog is for informational purposes only and should not be used to make buy or sell decisions for any type of precious metals.