Since its discovery by the ancient Egyptians several centuries ago, gold has played an essential role in every civilization. It has been used for a lot of things, from ornaments of the rich to it being issued as some sort of currency. Since the U.S dollar became the world reserve currency, gold has played an even lesser role as a financial instrument and has become people's go-to store of value.  
Like everything else that is traded, the gold market has had its ups and downs. Wild bull runs and long bear markets always happen as investors react to global financial news. As of December 2023, the highest price of gold sold for $2,171.36 an ounce, and 5 major price phases brought us here.
Gold prices have held steady around the $2,000 per ounce mark, as market participants projected that the current tightening cycle might be nearing its highest point for interest rates. These assumptions were influenced by the reduction of global inflation worries and efforts by leading central banks to avert a more comprehensive financial crisis. This month, the increased demand for gold as a safe-haven asset was also prompted by the recent banking instability that originated with the collapse of two regional banks in the US.
Regarding monetary policy, the US Federal Reserve implemented a 25 basis point rate rise at its March gathering, as anticipated, while alluding to only one additional rate hike. At the same time, a 40% probability is factored into money markets that the central bank will suspend rate increases in May, with rate reductions foreseen by the year's close. As a result, investors are now focusing on essential US PCE data and statements from various Federal Reserve authorities to gain insight into the Fed's future decisions.
Let's examine those phases mentioned earlier: 
The price of gold between 1981 and 2000: Historically, one of the worst cycles of price decrease for gold. the years following the fall of the USSR, when the dollar's standing became gradually more prestigious globally.

The price of gold between 2001 and 2010: The cost of gold after the US government's debt increased significantly, and the currency experienced substantial weakness in 2001. the ongoing increase in gold prices following the September 11, 2001, terrorist strikes in the United States Of America.

2012 to 2015: After more than ten years, the upward trend in gold prices has ended. Gold prices have been falling for the past three years in a row.

2016 to the present: There is now a promising trend in gold prices, in addition to a modest decline in price in 2018.
The price of gold is currently influenced by several factors, including demand for the precious metal, the amount of gold held in central bank reserves, the value of the US dollar, and the desire to keep gold as a hedge against inflation and currency depreciation.
What was the highest gold price ever?
On December 1, 2023, gold reached an all-time high of $2,171.36.
Amidst lockdown protocols, the after-effects of Brexit, and high tensions leading to the Russian-Ukrainian war, gold prices increased by around 18% from their value at the start of the year as investors were looking for low-risk investments. Covid safe-haven purchases and the worldwide response to the epidemic boosted the demand for gold.
What caused gold prices to spike in the 1970s?
1971 had a gold price of $35 with a relatively uneventful previous year, which was the beginning of a bull run. Gold reached a price of US$850 at the end of that decade which was a 2,300% increase in the 1970s. The 1970s were essentially a lost decade for stock investors in the west, with high volatility but flat returns. Many were looking for greener pastures, financial instruments that guaranteed high returns. 
The world has known how rare and valuable gold is for thousands of years. It served as a long-term asset backer and a medium of exchange in the form of coins.
For many years, it was illegal for private persons to hold gold in the US, and when the US abandoned the gold standard and adopted the US dollar as a "fiat" currency, the price of gold surged. A furious bull market for precious metals was triggered and abruptly ended a little while later.
The price of gold then increased to about $200 US dollars when the US repealed its restriction on its possession at the end of 1974. After a corrective phase, it increased to 850 US dollars in January 1980.
The leading cause for the increase in this decade was that Investors were uneasy and afraid due to double-digit inflation, oil price shocks, a weak currency, and political unrest. Investors increased their purchases of gold because it is a physical repository of wealth as fear and uncertainty increased. 
Why did the price of gold soar in the 1980s?
At $2,171.36 per ounce, gold prices reach a record high. Investors trouped to the precious metal due to high inflation brought on by high oil prices, the Soviet invasion of Afghanistan, and the effects of the Iranian revolution.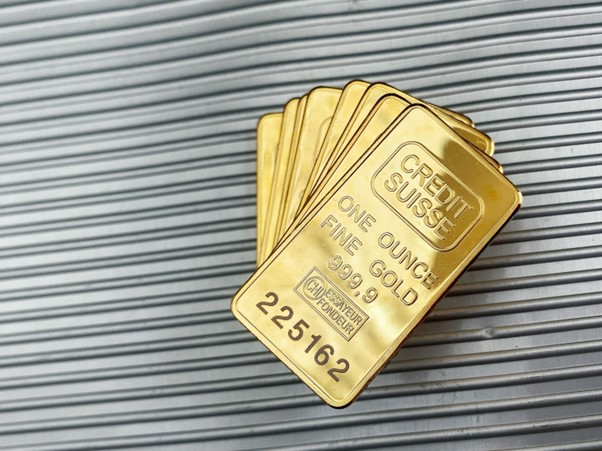 Gold prices often follow the CPI and inflation worries. However, a sharp increase and decline in gold prices were brought on by a confluence of extraordinary geopolitical events, bold and unorthodox governmental decisions, and market developments. Here are some of the things that happened that decade:
In Q1 1980, the Fed under Volcker briefly raised the fed funds rate from 13% to 20%.

Hostage crisis in Iran: 53 Americans were held hostage for 444 days, starting on November 4, 1979, and ending on January 20, 1981, during the Iran Hostage Crisis, a diplomatic standoff between Iran and the United States.

Soviet invasion of Afghanistan: On December 23, 1979, Soviet armed forces stormed Kabul, the country's capital. By December 28, the Soviet Union had taken over, and Babrak Karmal had taken the place of president Hafizullah Amin.
Inflation, a lack of economic development, and skyrocketing unemployment combined to produce the perfect storm of economic calamity. Many investors turned to gold as a hedge against stagflation, driving the metal price.
What made August 2020 have the top gold price?
On August 7, 2020, gold futures hit their highest-ever price of $2,089.20 in response to the significant monetary and fiscal measures implemented to support the economy in the aftermath of the epidemic.
Rising tensions between Ukraine and Russia, disruptions to the oil industry, and global logistics scared investors, who fled to assets like gold they believed to be safer, sending gold prices to their highest level.
Another cause for this price increase was the covid-related economic and political unrest, the printing of money by central banks to save their economies, and general panic buying by everyday people. Terrified investors turned to the safe-haven precious metal due to this unparalleled uncertainty. 
Gold prices are influenced by variables such as central bank policies on interest rates, inflation, and even the currency rate. Gold tends to become more costly with falling interest rates and rising inflation, and it will also become more expensive with any decline in the US dollar value. Of course, the reverse is also true. Experts predict that the coming years will see gold soar to record highs as the world experiences extreme inflation.
Due to this reason, investors should start adding gold to their portfolio before it experiences a surge in price. By doing this users would gain a large ROI. American Bullion would love to send you a FREE Gold IRA Guide if you are interested in learning more how you can add physical gold to your IRA (Individual Retirement Account). 
Call the precious metal experts at American Bullion: at (800) 531-6525 so you can add gold bars and gold coins to your investment portfolio now.