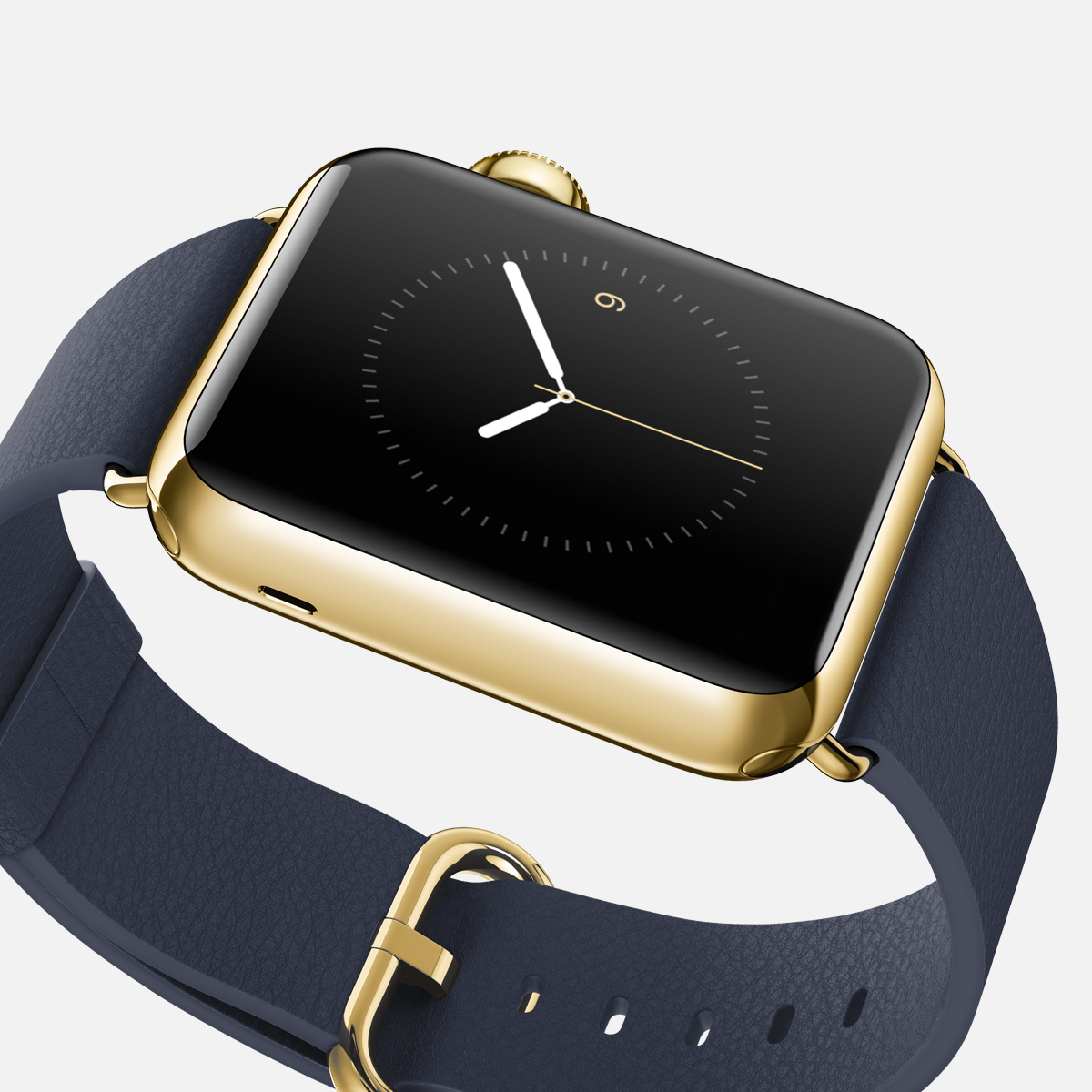 They say time is money, but for Apple, time is gold.
The technology giant is set to release a luxury edition of its Apple Watch in late April, called the Apple Watch Edition, that is encased in 18-karat gold. The cost? $10,000, as revealed at the highly anticipated Apple event on Monday. According to the Wall Street Journal, Apple expects to produce 1 million units of the Apple Watch Edition per month in the second quarter of 2015.
Read on for some interesting facts about the watch, and its potential implications for the gold market.
iGold?
Pure gold is soft, heavy, and scratches easily. But the gold in the Apple Watch Edition is not just any gold, it's "Apple Gold". Johnny Ive, Apple's Senior Vice President of Design, told the Financial Times in an interview that Apple had created an ultra-hard 18-karat gold for the watch. The interviewer wrote that "the molecules in Apple Gold are closer together," a claim that has been dismissed by scientists. But Apple has in fact patented a harder gold, which is actually "made using a special process that involves blending gold powder with ceramic powder, then heating and compressing it, to create a substance that's harder and more scratch resistant than regular gold," writes Gizmodo. It may also contain less gold by volume than normal 18-karat gold, which would make it less heavy.
An impact on the gold price?
Based on calculations by Josh Centers on the Apple news blog TidBITS, rumors began spreading that production of the Apple Watch Edition would consume a third of the world's annual gold supply. Many thought the rumors were far-fetched, but there has been talk among mainstream investors and analysts about the potential impact the watch could have on gold prices. Bloomberg's Alix Steel spoke about it on Bloomberg TV's "In The Loop":
Paraphrasing an 
article
 by U.S. Global Investors CEO Frank Holmes, Steel said:
"It's not about the supply, it's about the perception. Apple's coming out and saying: 'Look, gold is a luxury item, and we want to be selling it.' He says that actually goes a really long way in validating gold."
But will anyone actually buy it? Wired writes "Yes, There's a Market For That $10,000 Apple Watch". Steel says China, which Apple expects to be a huge source of demand for the watch, "eats up" 18-karat gold items, with 10 million people in China buying a gram of gold a month. If that is the target market, the watch could move the gold price in terms of demand.
Holmes concedes that Apple's sales expectations for the watch may be too optimistic, but writes: "[R]emember, this is Apple we're talking about here. Over the years, it has sufficiently proven itself as a company that more-than-delivers on the 'if you build it, they will come' philosophy." Using the iPhone's better-than-expected sales as an example, he adds: "[I]t's not entirely out of the realm of possibility for Apple to move 1 million $10,000 Apple Watch Editions per month."
The hype around the Apple Watch Edition, as Holmes points out, demonstrates the everlasting human desire for gold. Gold does not just represent value, it is value. Call American Bullion today at 1-800-326-9598 to speak with a precious metals broker about buying physical gold for your retirement account or direct delivery to your home. Although the gold coins and bars we sell cannot tell you the time, they can protect your wealth from inflation and diversify your portfolio away from paper assets.
About American Bullion
American Bullion, Inc. specializes in converting IRAs, old 401(k)s, or other qualified retirement plans from paper-based assets to physical gold coins and bars through a Gold IRA rollover or transfer. We've pioneered a system to handle all the details for you, tax-free and hassle-free. Interested in buying gold and silver and storing it yourself, outside of your retirement account? Simple – we've insured and shipped millions of dollars' worth of gold, silver, platinum, and palladium to thousands of homes just like yours. As a U.S. Mint nationally listed dealer, we strive to be the best Gold IRA company in the industry and guarantee every transaction is fast, simple, and secure. See our American Bullion Reviews page for testimonials from our many satisfied clients.
—
Although the information in this commentary has been obtained from sources believed to be reliable, American Bullion does not guarantee its accuracy and such information may be incomplete or condensed. The opinions expressed are subject to change without notice.

American Bullion will not be liable for any errors or omissions in this information nor for the availability of this information. All content provided on this blog is for informational purposes only and should not be used to make buy or sell decisions for any type of precious metals.