This week in gold, the U.K. Royal Mint reported increased demand for gold coins among Greek investors seeking a financial safe haven from the political and economic uncertainty in their country. A Swiss bank CEO said they "keep noticing that gold is coming back into favor with investors," and the World Gold Council released a report on gold trends and demand in 2014. We also gave you some insight on who should and should not invest in gold.
Read on for further summaries of this week's blog stories, important news of the week, and other gold-related articles that are worth a read.
On The Blog
Worried Greek investors turning to gold as safe haven asset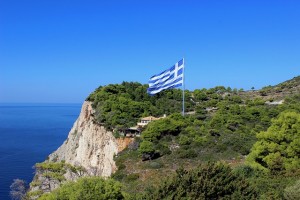 The U.K. Royal Mint reported increased demand for gold coins among Greek investors, as the country's current political and economic turmoil has many seeking a safe haven asset. The media is calling Greece's possible exit from the euro a "Grexit", a possibility that has raised concerns over potential losses in stocks, bonds, and currency values in Greece and the Eurozone that could result. "There has been a noticeable increase in demand in this last quarter," Lisa Elward, head of bullion sales at the Royal Mint, told Bloomberg. "We tend to see an upsurge in sales at times of political and financial uncertainty." Read more in Monday's blog.
Don't buy gold if…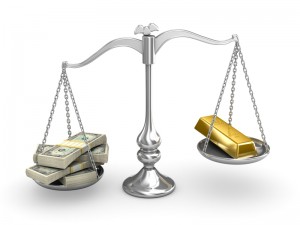 Many of American Bullion's clients don't just want to know about gold, they want to know if it's right for them. Since people vary in their financial situations, needs, and goals, investing in gold isn't right for everyone. In order to avoid setting yourself up for disappointment, it's wise to assess what you want out of your gold investment before deciding to make a purchase. We compiled a short list to help you with this. See it in Tuesday's blog.
Swiss bank: Gold "coming back into favor with investors"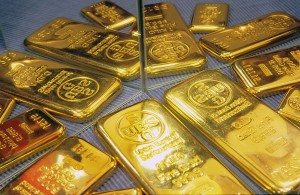 Swiss bank and wealth manager Vontobel Holding AG reported that investors are buying more gold as an alternative to Swiss francs, after the Swiss National Bank (SNB) imposed higher charges on banks that use the SNB as a custodian for Swiss franc deposits. Vontobel CEO Zeno Staub told reporters "We keep noticing that gold is coming back into favor with investors." Read more in Wednesday's blog.
World Gold Council releases report on 2014 demand and trends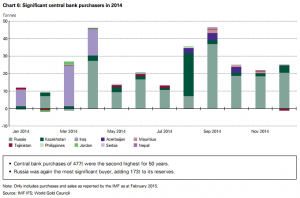 The World Gold Council released the latest issue of its Gold Demand Trends quarterly publication on Wednesday. The report contains some staggering facts and statistics regarding investment demand, central bank buying, and production and supply in 2014. We summarized what we believe are the most pertinent points. See them in Thursday's blog.
Other News
The S&P 500 reached a record high on Friday of 2,093.82 as oil prices jumped and lifted energy stocks. The Dow Jones was also brought back above 18,000.
The new Greek government remains under pressure to strike a deal with its creditors. Eurozone finance ministers are set to meet again on Monday in hopes of making a deal, after this week's talks failed.
A ceasefire has been reached between Ukraine and the Russian-backed rebels, and is due to come into effect on Sunday. The two sides fought fiercely on Friday.
Apple became the first U.S. company to be worth $700 billion on Tuesday.
A survey released on Friday showed U.S. consumer sentiment fell in February, dropping from an 11-year high.
Further Reading
Alan Greenspan: The euro is doomed
Yikes! Here's another reason to fear US stocks
India Smugglers, and Their Bodies, Take a Break From Gold
Geopolitics trump fundamentals in 2015, likely bull year for gold price: MKS
Chinese government might seize farmer's 17-pound gold nugget
About American Bullion
American Bullion, Inc. specializes in converting IRAs, old 401ks, or other qualified retirement plans from paper-based assets to physical gold coins and bars through a Gold IRA rollover or transfer. We can also help you buy gold and silver outside of your retirement account through cash purchase for direct delivery to your address. We've pioneered a system to handle all the details for you, tax-free and hassle-free. As a U.S. Mint nationally listed dealer and a top-tier Gold IRA company, we ensure every transaction is fast and secure. See our American Bullion Reviews page for testimonials from our many satisfied clients. Call us at 1-800-326-9598 to speak with a precious metals broker, or request your Free Gold Guide.
—
Although the information in this commentary has been obtained from sources believed to be reliable, American Bullion does not guarantee its accuracy and such information may be incomplete or condensed. The opinions expressed are subject to change without notice.

American Bullion will not be liable for any errors or omissions in this information nor for the availability of this information. All content provided on this blog is for informational purposes only and should not be used to make buy or sell decisions for any type of precious metals.