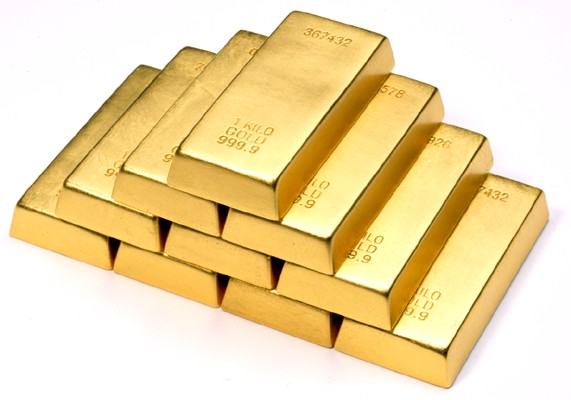 This week in gold, concerns over factors such as global economic growth, corporate earnings, and the Ebola virus shook up the markets, as gold rallied to a 1-month high and the stock market experienced one of its worst-performing days since 2011. We also explained to you the anatomy of U.S. coinage – useful knowledge for anyone who owns or is considering owning precious metal coins.
A trader interviewed on CNBC's Futures Now segment had this to say about gold and the current state of the markets:
"When people think about going beyond that traditional portfolio of stocks and bonds, and where the bond market is, I think gold is a really nice tangible asset here … I think having that diversified portfolio, you're going to see more people get attracted to gold, because at the end of the day, it has been a safe haven for thousands of years."
Read below for a recap of this week's stories.
Gold reaches near 4-week high on lower dollar, Fed uncertainty
On Monday, the gold price hit a near 4-week high on a drop in the dollar and uncertainty over when the Federal Reserve might raise interest rates. The minutes from the Federal Reserve's mid-September meeting revealed concern over the dollar and global growth, leading investors to believe the Fed may raise interest rates later than previously expected. The timeline depends on multiple unpredictable factors such as the strength of the dollar, inflation, the labor market, and global economic growth, so there is still a fair amount of uncertainty on the subject. Read more here.
Anatomy of a Coin: 8 Terms to Know
Ever looked closely at a coin and wondered what certain parts of it are called, and why? Knowing the names of the main components and their meanings is useful to any precious metal coin investor when communicating with buyers, sellers, or other coin collectors. It will also help you understand and appreciate the numismatic significance of your investment. Using an uncirculated Sacagawea dollar as an example, we show you the eight basic components of a coin and their definitions.
Gold reaches 1-month high as stocks continue decline
On Wednesday, gold experienced its third straight gain and longest rally since August 14. The stock market erased its 2014 gains amidst investor concerns over global economic growth, corporate earnings, and the Ebola virus. The Dow, S&P, and Nasdaq each fell by over 2% in one of Wall Street's worst-performing days since 2011. Karyn Cavanaugh of Voya Investment Management said "Overwhelmingly bad news is outweighing good news at the moment." 
—
If you would like to add physical gold coins or bars to your retirement portfolio, call American Bullion today at 1-800-326-9598 and ask about opening a Gold IRA.