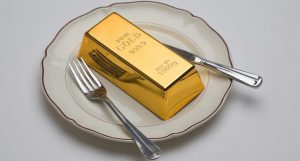 Gold is a beloved precious metal that typically takes the form of beautiful jewelry, investment grade coins, or shiny bullion bars. But did you know that it also takes the form of gold leaf, powder, and flakes that may be used to garnish a variety of culinary creations ranging from chocolate cake to caviar? That's right: people actually eat gold.
Although it may sound like eating gold is just another weird trend born of the excesses of the modern age, the practice can be traced back to ancient Egypt, where gold was believed to be a sacred food. Gold was bestowed with a similar reverence in India and is still used in that country as a prominent ingredient in natural remedies.
Edible gold is a special nontoxic form of the precious metal, and costs close to $145 per gram—which is far more expensive than the spot price of the investment commodity, which currently stands at $43.50 per gram. That discrepancy may help explain the price tags on many of these "golden" foods available around the world:
The $25,000 Frrrozen Haute Chocolate Sundae from Serendipity 3 in New York, which was granted the title of World's Most Expensive Dessert by the Guinness Book of World Records
A $2,995 bottle of rose champagne at the Emirates Palace Hotel in Abu Dhabi
A $1,700 hamburger (appropriately named the Glamburger) featuring buns dipped in gold leaf made by Honky Tonk in London
A $2,400 pizza topped with gold leaf served by Margo's Pizzeria in Malta
A $1,000 bagel that comes with white truffle cream cheese, goji-berry Riesling jelly, and gold leaf from the Westin hotel in New York
A $2,500 bottomless mint julep served in a 24-karat gold plated cup and sipped through a 24-karat gold straw at the Kentucky Derby
If those prices are too extravagant for your budget, there are some more affordable ways to get a taste of gold. For example, in Japan you can buy a soft serve ice cream cone topped with gold leaf for about $8 and in the UAE you can buy a cappuccino sprinkled with gold flakes for about $25.
While it might be fun to indulge your palate with a gold treat once in a while, a much better use of your money—and the gold—would be to save for retirement, so skip the edible stuff and add to your precious metals IRA instead!