"The more you know about the past, the better prepared you are for the future." -Theodore Roosevelt
No one has a crystal ball for the stock market, but what we do have to look at is history. Although past performance does not guarantee future results, when it comes to the U.S. stock market's current situation, history shows some alarming parallels. Below are two charts regarding the stock market that will have you wondering: Will this time be different, or will history repeat itself?
1. The Buffett Indicator
In a 2001 Forbes Magazine interview, Warren Buffett called the Market Cap to GDP indicator "probably the best single measure of where valuations stand at any given moment." Therefore, this indicator came to be known as the "Buffett Indicator". It measures the percentage of GDP that represents stock market value, and is used to determine whether the stock market is over or undervalued at a given time. A value over 100% is said to show overvaluation, while a value around 50% is said to show undervaluation.
Here is a chart depicting trends in Buffett Indicator values (measured by the Wilshire 5000 Full Cap Price Index divided by GDP) since 1970: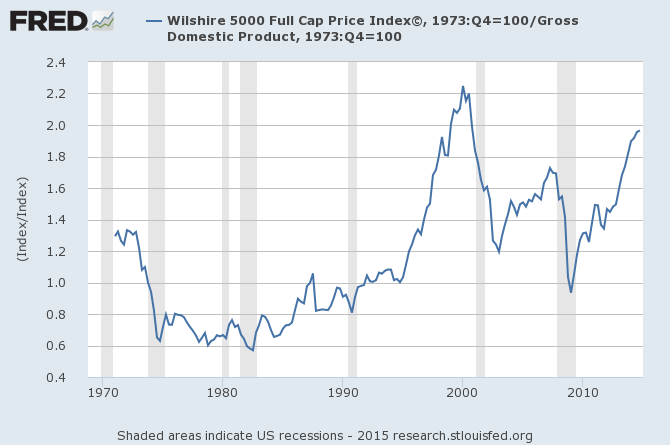 What's important to pay attention to on this chart is the last two years in which the indicator reached a high: 2000 and 2007. In 2000 the market experienced a crash after the Dot Com Bubble burst, contributing to the early 2000s recession – and we all remember what happened in 2007-8.
Right now, the Buffet Indicator is at its second-highest level in 60 years. Will this time be different, or will history repeat itself?
2. Number of consecutive years of positive returns on the S&P 500
Jeffrey Gundlach, the founder of investment firm DoubleLine Capital who has been called the "King of Bonds", used the following chart in his 2015 outlook to make a bearish case for stocks: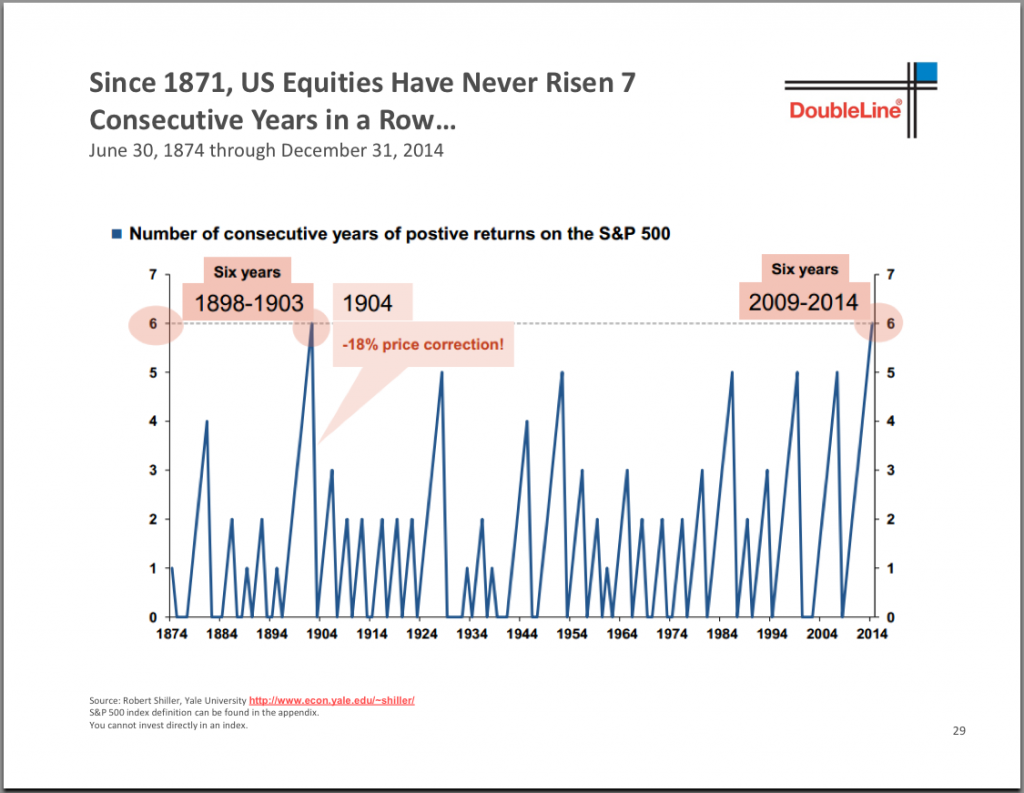 As the chart shows, U.S. stocks as measured by the S&P 500 index have never been up for more than six consecutive years. Currently, the stock market has been up for six years in a row: 2009 to 2014. If it ends 2015 with positive returns, it will be the first time in history that it has done so for more than six years in a row.
Bull markets eventually get tired, and our current one is reaching the point at which past bull markets ran out of steam. Again, although past performance is not indicative of future results, ask yourself: will this time be different, or will history repeat itself?
If this time does not turn out to be different, physical gold can be your safety net. As Jim Cramer of Mad Money has said:
"[G]old tends to go up when everything else goes down. It's your insurance against economic or geopolitical chaos, uncertainty, and inflation – all things that can cause most stocks to decline, but can also cause the price of gold to rise."
Call American Bullion today at 1-800-326-9598 to speak with a precious metals specialist about adding gold to your retirement portfolio or purchasing coins and bars for secure direct delivery.
About American Bullion
American Bullion, Inc. specializes in converting your IRA, old 401k, or other qualified retirement plan to a self-directed IRA capable of holding physical gold coins and bars, known as a Gold IRA or Precious Metals IRA. We've pioneered a system to handle all the details for you, tax-free and hassle-free. Want to buy gold and silver and store it yourself, outside of your retirement account? Simple – we've insured and shipped millions of dollars' worth of gold, silver, platinum, and palladium to thousands of homes just like yours. As a U.S. Mint nationally listed dealer, we strive to be the best Gold IRA company in the industry and guarantee every transaction is fast, simple, and secure. See our American Bullion Reviews page for testimonials from our many satisfied clients.
—
Although the information in this commentary has been obtained from sources believed to be reliable, American Bullion does not guarantee its accuracy and such information may be incomplete or condensed. The opinions expressed are subject to change without notice.

American Bullion will not be liable for any errors or omissions in this information nor for the availability of this information. All content provided on this blog is for informational purposes only and should not be used to make buy or sell decisions for any type of precious metals.