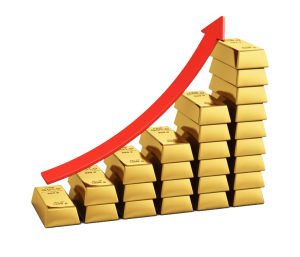 Gold has long been considered a safe haven for investment dollars when the stock market is under-performing or in steady decline. This typically leads to an increase in the spot price of gold as stock values fall, an inverse relationship that can clearly be seen when reviewing historical data. Most recently, gold prices enjoyed a surge during stock market tumbles in 2008 and 2011, and appear to be on the way up again now as fear and uncertainty plague the market.
Gold has been trending higher since November, when concerns about China's stock market began to surface. The Chinese economy has continued to tank, with the Shanghai Composite losing nearly 7% of its value in the first week of 2016. The losses have had a ripple effect throughout the global economy as anxious investors consider alternatives to stocks.
What does this stock market fear mean for gold investors? Here are a few key points and predictions:
Other commodities, including crude oil, are experiencing similarly steady declines, giving investors fewer promising alternatives for their money and increasing the attractiveness of gold.
Political unrest in the Middle East is not expected to stabilize in the near future, thus further fueling economic uncertainty. Gold offers investors a tangible, physical asset that can be used as a hedge against devaluation of fiat currencies.
Fears of rising inflation tend to go hand in hand with fears of stock market declines. As investors wait to see what interest rates do, moving their money out of stocks and into gold helps protect their portfolio through diversification.
Analysts are predicting continued declines in China's stock market and expect the Dow Jones to mirror those results. Getting out of stocks and buying some physical precious metals is a way to preserve capital and overall protection from a complete meltdown.
If you're as worried about the future performance of the stock market, commodities, interest rates, and general global economy as many other investors and experts, then this is the right time to consider putting some of your money into a Gold IRA. Contact a precious metals expert at American Bullion today for more information on how to get started.
Although the information in this commentary has been obtained from sources believed to be reliable, American Bullion does not guarantee its accuracy and such information may be incomplete or condensed. The opinions expressed are subject to change without notice. American Bullion will not be liable for any errors or omissions in this information nor for the availability of this information. All content provided on this blog is for informational purposes only and should not be used to make buy or sell decisions for any type of precious metals.