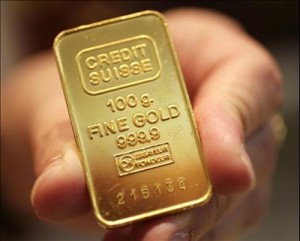 In this shaky economy, many businesses are struggling to keep their doors open. These economic conditions have left many mining companies crippled by substantial debt, dissipating revenues, and dramatically reduced funding. Remarkably, one miner has actually grown stronger despite these detrimental market conditions. Agnico-Eagle Mines Ltd. (NYSE: AEM), a Canadian mining company, is in a unique position for increased production volumes and a reduction in expenses — with a positive long-term forecast.
Agnico-Eagle Mines Ltd. In 2015
Fourth-quarter revenues rocketed to $503 million — a healthy 15 percent — thanks to strong production from numerous gold mines. Production volumes in the fourth quarter rose 20 percent, while annual production jumped 30 percent – for a total of 1.42 million ounces of gold. The company's financial success can largely be attributed to its high production volumes, which provided insulation against the fall of gold prices in the market.
Company History
In 1953, Cobalt Consolidated Mining Company was created by five financially troubled silver mining companies. After undergoing a reorganization in 1957, the company changed its name to Agnico Mines — a moniker containing the metallic symbols of silver, nickel, and cobalt. In 1972, the company merged with Eagle Mines Ltd., which allowed for development of the Joutel mining facility. Also in 1972, the company changed its name to Agnico-Eagle Mines Ltd and first appeared on the Toronto Stock Exchange.
In recent years, the company has seen rapid growth. The 2014 acquisition of Osisko Mining Corp. with Yamana Gold created a 50-50 partnership, which presides over one of the largest gold mines in Quebec. Another company acquisition happened in 2015 when Agnico acquired Soltoro Ltd. In Mexico.
A Closer Look at Production Costs and Profit Margin
In 2014, the estimated cost of gold production for Agnico-Eagle was $954 per ounce. Realized selling prices were $1261, meaning the company produced a healthy profit margin of 24 percent — $307 per ounce sold. This amount is higher than a number of competitors, such as AuRico Gold Inc., Iamgold Corp., and Kinross Gold Corp — to name just a few.
The Company's Debt Profile
Agnico-Eagle not only has a cash position of $182 million (in 2014) with each of its eight mines generating cash flow, but most of the debt incurred by the company — $52 million short-term and $1,322 million long term — is able to be repaid within nine years in steady increments.
Looking Ahead
Agnico-Eagle Mines Ltd anticipates production to reach 1.6 million ounces of gold. In addition, the company has a number of upcoming projects anticipated to successfully spur growth into 2017. In addition, Agnico-Eagle is prepared for when the market gets tough — thanks to $700 million in credit. Many experts rate the company as very bullish, citing its ability to thrive and grow in any market condition. Gold stocks — especially those as strong as Agnico-Eagle — make a solid addition to any investment portfolio. Gold offers low volatility, high liquidity, and global value, which means when you choose gold stocks and ETFs, you're making a low-risk investment that offers strong potential for growth and return on investment.