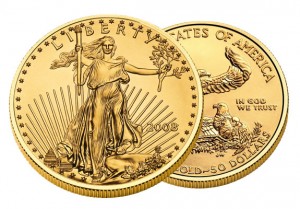 People who are new to gold investing often wish to start small and play it safe until they get a better feel for the precious metals market. For these folks and others wishing to make conservative investments, American Eagle gold coins are an excellent option.
American Eagle gold coins were first produced by the government in 1986 and have been the most popular coin for American investors ever since. In fact, according to the US Mint website more than 1.8 million of these coins were sold in 2015 alone. They are available in four denominations (1-oz., 1/2-oz., 1/4-oz., and 1/10-oz.) and feature instantly recognizable designs of Lady Liberty on the obverse and a family of eagles on the reverse. Here are some additional facts about American Eagle gold bullion coins for investors:
They are produced at the West Point Mint and boast a gold fineness of .9167 (22k).
The coins are alloyed with silver (3%) and copper (5.33%) to enhance durability and protect against excessive wear.
The gold content, weight, and purity of each coin is fully backed by the US government.
Each coin is considered legal tender and has a face value of $50 (1-oz.), $25 (1/2-oz.), $10 (1/4-oz.), or $5 (1/10-oz.). However, the true market value of the coins is related to the spot price of gold rather than the face value.
American Eagle gold coins, available for purchase at AmericanBullion.com, are permissible for IRAs, making them the only gold bullion coin of less than 99% purity that can be used for this purpose.
Similarly, the proof (or collector) versions of American Eagle gold coins, also available at American Bullion, are the only proof product allowed in an IRA.
If you want to begin adding physical gold to your IRA, there's no easier or safer way to do so than with American Eagle gold coins or proofs. Contact American Bullion today to talk with a precious metals specialist about fulfilling your investment objectives with gold coins.
Although the information in this commentary has been obtained from sources believed to be reliable, American Bullion does not guarantee its accuracy and such information may be incomplete or condensed. The opinions expressed are subject to change without notice. American Bullion will not be liable for any errors or omissions in this information nor for the availability of this information. All content provided on this blog is for informational purposes only and should not be used to make buy or sell decisions for any type of precious metals.