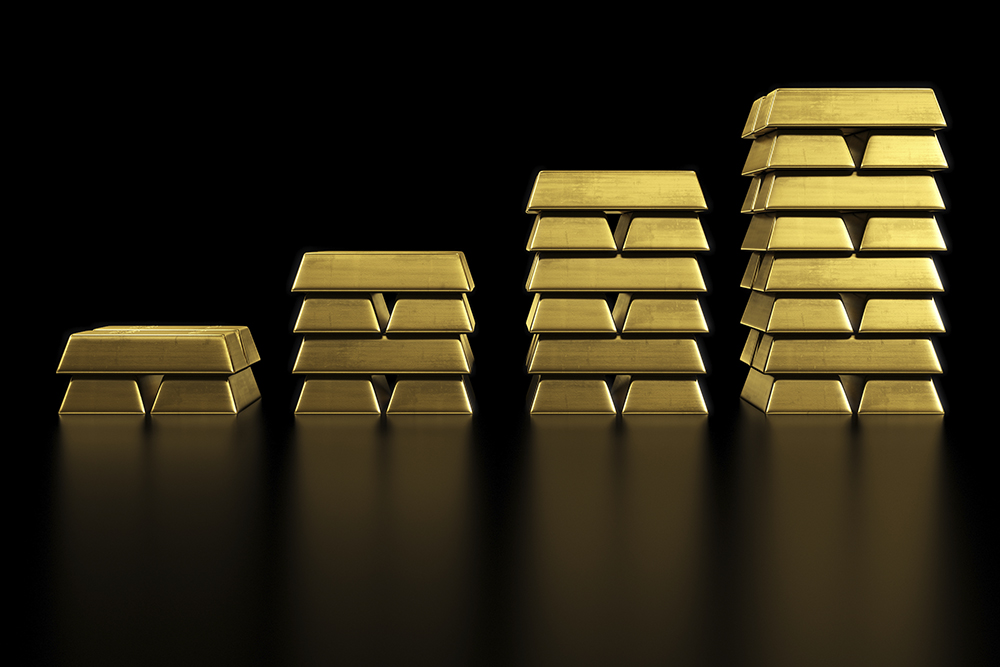 China and Russia, two of the world's top gold-holding countries, are buying even more gold. China in particular is stepping up its gold game.
As of March 2015, China has the sixth largest gold reserves in the world at 1,054.1 tonnes. Russia ranks fifth with 1,207.7 tonnes. See the full top 10 in our infographic: Which Countries Hold the Most Gold?
Russia has been known to have a large appetite for gold, being the top buyer in 2014. The true current size of China's gold reserves is uncertain and somewhat of a mystery – the country hasn't disclosed its holdings since April 2009 – but Bloomberg Intelligence claims China may have tripled its gold reserves since the last reporting.
Russia's gold appetite returns
After two months without buying, Russia's central bank bought 28 tonnes of gold in March – its biggest one-month purchase in six months.
Analysts are calling the purchase a good sign for the gold market:
"It's interesting that Russia is still buying because its economy has taken a knock from Western sanctions and from lower oil prices. This sends a very bullish signal to the gold market," said precious metals analyst David Jollie to Bloomberg [emphasis added]. 
The mystery of China's gold reserves
The true size of China's gold hoard has been the subject of much doubt and scrutiny. China is notoriously secretive about its gold reserves and does not report its holdings every year. Many speculate that China under-reports its holdings, and others believe the country has been buying gold secretly and stealthily.
Based on trade data, domestic output, and China Gold Association figures, Bloomberg Intelligence says China may have tripled its gold holdings since April 2009 to 3,510 tonnes. That amount would put them second to the United States in worldwide gold holdings.
Why is China buying so much gold?
China has been ramping up efforts to make the yuan a viable competitor to the dollar, leading to speculation that the central bank is stockpiling gold in effort to diversify its $3.7 trillion reserves.
"If you want to set yourself up as a reserve currency, you may want to have assets on your balance sheet other than other fiat currencies," said Bart Melek, a strategist at TD Securities, to Bloomberg. Gold is "certainly viewed as a viable store of value for an up-and-coming global power." [emphasis added]
China has also been attempting to add the yuan to the International Monetary Fund's currency basket, the Special Drawing Right (SDR), which includes the dollar, euro, yen and British pound. To do so, China may have to disclose its holdings to the IMF before meetings on the SDR occur in May or October.
"Gold has always been, through the history of China, a way to project power. They are thinking about how to make the yuan more international, and so this is a possible reason why they are buying so much gold." said Kenneth Hoffman, metals and mining analyst at Bloomberg Intelligence [emphasis added].
RT.com writes that it could threaten the U.S. dollar:
"The world's second largest economy may be giving the US, the world's largest bullion holder, a run for its money. This isn't just a title to be won, as it could have a great effect on the stability of the US dollar which could be threatened if China accumulates enough gold."
Conclusion
These large gold purchases by China and Russia could help restore investors' confidence in gold as a viable reserve asset. In addition, it shows an attempt to diversify away from the U.S. dollar and possibly weaken it. Russia bought gold in March despite its struggling economy, demonstrating just how strong Russia's desire to hoard gold is. These cues have the power to improve investor sentiment in the gold market and drive up prices. If the dollar takes a hit, it could also push investors toward gold as a hedge.
Gold ownership is not limited to central banks. If central banks of the world's most powerful countries own gold, why shouldn't you? Call American Bullion today at 1-800-326-9598 to find out how easy it is to own physical gold coins and bars.
About American Bullion
American Bullion, Inc. specializes in converting your IRA, old 401k, or other qualified retirement plan to a self-directed IRA capable of holding physical gold coins and bars, known as a Gold IRA or Precious Metals IRA. We've pioneered a system to handle all the details for you, tax-free and hassle-free. Want to buy gold and silver and store it yourself, outside of your retirement account? Simple – we've insured and shipped millions of dollars' worth of gold, silver, platinum, and palladium to thousands of homes just like yours. As a U.S. Mint nationally listed dealer, we strive to be the best Gold IRA company in the industry and guarantee every transaction is fast, simple, and secure. See our American Bullion Reviews page for testimonials from our many satisfied clients.
—
Although the information in this commentary has been obtained from sources believed to be reliable, American Bullion does not guarantee its accuracy and such information may be incomplete or condensed. The opinions expressed are subject to change without notice.

American Bullion will not be liable for any errors or omissions in this information nor for the availability of this information. All content provided on this blog is for informational purposes only and should not be used to make buy or sell decisions for any type of precious metals.