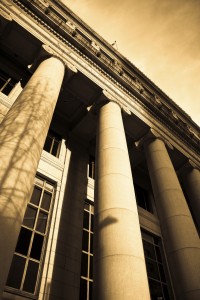 The U. S. Federal Reserve's Open Market Committee (FOMC) meeting concluded yesterday with no major changes. As I've been suggesting for weeks now, the Fed did manage to begin backing off of their aggressive talk regarding rapidly and frequently increasing interest rates. They still haven't copped to it, but Fed realizes that the economy is simply not moving at a rate that fans the flames of inflation, so the group announced that instead of three or four rate increase steps this year, there will only be two. Before the year is done, I imagine they'll have trimmed that to one, if at all. The simple fact of the matter is that the government can't afford the increase, which would quickly translate into a higher price tag on debt interest payments. In spite of the powerful injection of new Dollars, the market and economy remain relatively flat.
As expected, precious metal prices bounced up in response to; the lackluster performance of the Dollar, the volatile gyrations of global equity markets, and the dovish stance of the U. S. central bank. Additionally, investors are beginning to realize the ongoing patterns and similarities with many 2008 pre-crash warning indicators. But 2008 was just a meltdown. Elements are present today that push the potential devastation to exponential levels:
Today's stock market is being fueled entirely by freshly printed Dollars
Almost every major U.S. industry is exhibiting minimal or no growth
Current stock market bull run is already two years beyond the average term
Market typically gives up a 10% correction once a year and we're approaching 4 years
Stock valuations are 50% above the 14 times revenue average valuation
Every stock market downturn was preceded by an interest rate increase like the one we had in December
The Chinese Yuan joins the IMF basket of "Global Reserve Currencies" in October.
Inflation concerns could begin to pick up as we approach the end of the year, but that too is a positive for precious metals, which have a shinning history as a terrific hedge against inflation. In spite of the fact that rate hikes are meant to reinforce the Dollar's strength, the reality is that if rate hikes do continue, they'll simply add more volatility to already nervous equity markets. The Fed's apparent lack of action and guidance is only serving to create a high degree of uncertainty with the U. S. Dollar.
Although the information in this commentary has been obtained from sources believed to be reliable, American Bullion does not guarantee its accuracy and such information may be incomplete or condensed. The opinions expressed are subject to change without notice. American Bullion will not be liable for any errors or omissions in this information nor for the availability of this information. All content provided on this blog is for informational purposes only and should not be used to make buy or sell decisions for any type of precious metals.