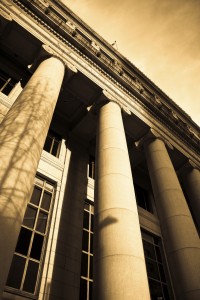 Just three months ago, the Fed was a veritable fountain of economic optimism, gushing with praise for the improving unemployment numbers and eager to implement the first interest rate increase and the first interest rate adjustment in more than seven years, with Dollar fortifying plans to continue increasing interest rates on a quarterly basis initially and even more frequently moving forward. They actually projected to be implementing an additional 18 incremental rate increases over the coming three years.
Fed Chairman, Janet Yellen, stepped out of the ether lounge on Wednesday, long enough to modify previously announced plans, saying that, if growth is slowing down here, there's no reason to be as aggressive when it comes to interest rate hikes. Duh! I can't imagine what information she was considering when she made those projections at the last meeting, but her remarks Wednesday are much more in line with reality, as inflation and GDP growth remain low. A simple fact of the matter is that any interest rate hikes will directly increase the required National Debt payment, which the Fed can't afford. I'll be shocked if they don't cancel one or both of the remaining proposed increases. Apparently, the only policy tools Yellen has left are threats and innuendos. Meanwhile, other central banks are taking action; in December the European Central Bank extended its QE program by six months and increases its tempo in beginning in April, the Bank of Japan introduced negative interest rates in January, and last August the People's Bank of China unpegged the Yuan.
Yellen's announcement gave hope to the Yen and Euro, actually bouncing the Yen to its highest level against the Dollar since October of 2014. The Fed's plan to delay and suspend interest rate hikes gave brief relief to the stifling malaise of equities markets and as usual, strong support to oil, precious metals and other "crisis assets." Meanwhile, market earning expectations remain low, which will force investors to be much more tactical in their positioning. The Fed's printing press is definitely experiencing a lag when it comes to inflation, but anyone who thinks it's not coming because of the delay simply doesn't understand economics. What is coming is a hopefully gradual, but probably rapid, increase of inflation and a rapid devaluation of global currencies. Economics 101 clearly demands an appropriate hedge against such forces and none is as effective and affordable as precious metals.
Although the information in this commentary has been obtained from sources believed to be reliable, American Bullion does not guarantee its accuracy and such information may be incomplete or condensed. The opinions expressed are subject to change without notice. American Bullion will not be liable for any errors or omissions in this information nor for the availability of this information. All content provided on this blog is for informational purposes only and should not be used to make buy or sell decisions for any type of precious metals.