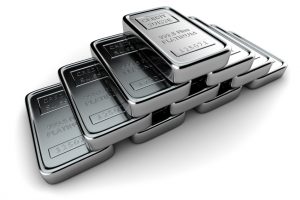 Precious metals are hotter than ever. Not only are financial experts predicting the rise in gold prices, they're also confident that 2016 is set to be a big year for platinum. The position of platinum in the investment world is different from its position in the fine jewelry world. While platinum is, on average, more expensive than gold when crafted into wedding rings, for example, it actually trades at a 30 percent discount to the average gold price. Intrigued yet?
Supply and Demand
One of the biggest forces driving the world of precious metals investing is supply and demand. When supply decreases and demand increases, prices rise. This is exactly what's happening to platinum. The supply of this precious metal is set to decrease because of strikes and mine closures in South Africa.
In addition, the demand for platinum from the automotive industry has improved in the first quarter of 2016 alone. Platinum is primarily used in automobiles for emissions control reasons. With the continuing march toward eco-friendliness, the use of platinum in this industry shows no sign of slowing.
Platinum Use in Other Industries
The auto industry currently accounts for 40 percent of platinum use, on average. However, it's not the only industry in which platinum is used. The jewelry industry clocks in as the second-biggest consumer of platinum at around 35 percent.
With platinum prices cheaper than gold but able to be produced into items more expensive than gold, it is easy to see why the jewelry industry continues to clamor for this multi-purpose precious metal. Twenty percent of platinum demand can be attributed to industrial consumers. Investor demand makes up between 2 and 11 percent of platinum use.
Platinum vs. Gold
There's no doubt investors should consider gold as part of a well-rounded investment strategy — especially when it comes to retirement. The gold IRA offers a wealth of advantages over other types of IRAs and retirement accounts.
While tax deferment is definitely an upside, another reason investors like gold IRAs is because they give account holders more control over their retirement fund. Where does platinum fit in? Right now, platinum is trading at approximately $1,000 per ounce, several hundred dollars less than the price of gold, making a a platinum IRA a worthy investment strategy.
Investing in Platinum
If you're interested in buying platinum, many experts believe now is the time. As with gold and silver, platinum bullion can be purchased in the form of coins and bars. You've probably already heard diversification is key to a healthy investment portfolio, and that's true for precious metals investing, too.
Even if you're already holding gold and silver, whether in bullion, ETFs, or an IRA, you should consider adding a platinum IRA to your portfolio while prices are low.
Questions about precious metals investing? We're happy to help! One of our helpful and experienced advisors can help you learn more about benefits of investing in platinum and other precious metals. We can help you navigate the often-tricky world of investing and put you on the right path towards reaching your retirement goals.
References:
http://www.profitconfidential.com/platinum/platinum-price-forecast-2016-2017/
http://www.energyandcapital.com/articles/are-platinum-prices-set-to-soar/5474
Although the information in this commentary has been obtained from sources believed to be reliable, American Bullion does not guarantee its accuracy and such information may be incomplete or condensed. The opinions expressed are subject to change without notice. American Bullion will not be liable for any errors or omissions in this information nor for the availability of this information. All content provided on this blog is for informational purposes only and should not be used to make buy or sell decisions for any type of precious metals.