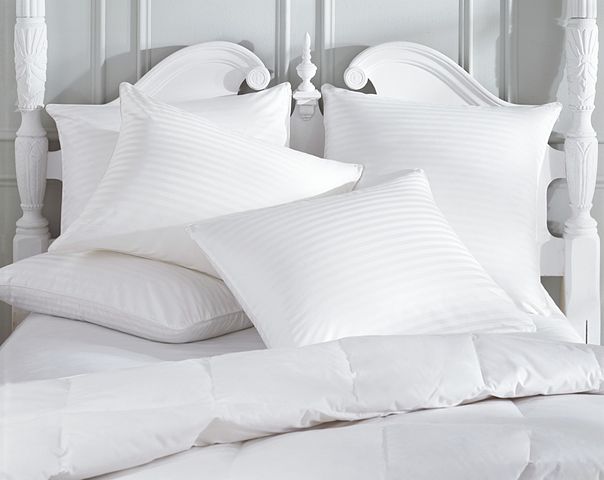 The people of Lydia, an ancient kingdom in modern-day western Turkey, were the first people to use gold and silver coins around 610-550 BCE. Today, Turkey is the fourth largest consumer of gold in the world and accounts for 6% of global consumer demand.
The World Gold Council's (WGC) latest report Turkey: gold in action examines the important role gold plays in Turkey today, and how the use of so-called "under-the-pillow" or "under-the-mattress" gold – gold stored in individuals' homes – has supported the health of Turkey's economy. A summary is below.
What's attracting so many Turks toward gold?
Aside from the historical underpinnings, gold plays a prominent role in Turkish culture, particularly in weddings and other religious affairs. It is traditional for a bride to receive gold coins and jewelry as a wedding gift, and many brides walk down the aisle heavily adorned with gold bangle bracelets.
Turks also have a long-standing history of turning to gold to protect their wealth, preferring to store it in their own homes. WGC estimates Turkey's total under-the-pillow gold stock at at least 3,500 tons, worth about $145.3 billion USD. "I don't understand modern investments like stocks and forex. Gold is my family's traditional investment as my mother always encouraged me to buy gold for savings," 36-year-old Selda Kirkpinar, a Turkish woman who stores gold in her home, told Anadolu Agency.
"Generations of Turkish consumers have viewed gold – in any form – as an effective hedge against inflation and currency weakness, both of which Turkey has suffered," says the report. Their view has proven correct so far: while annual inflation averaged 60% from 1997-2003 and the Turkish lira depreciated four-fold against the U.S. dollar from 2000-2014, gold appreciated sixteen-fold in lira terms.
Putting under-the-pillow gold to work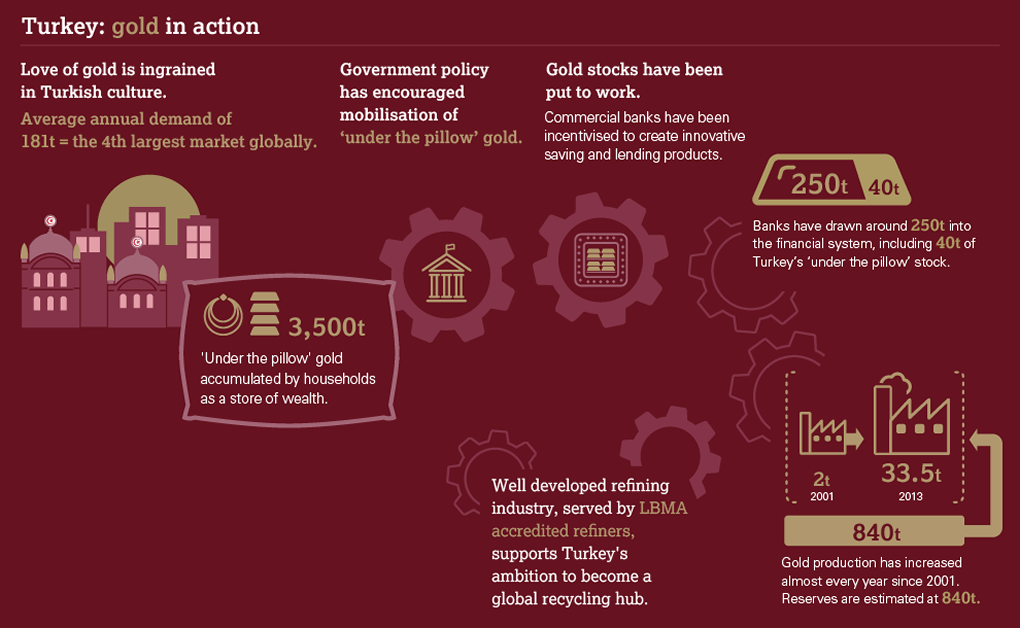 In 2012, Turkish banks began encouraging consumers to move their gold from under the pillow into gold deposit accounts, hoping to put the gold to use for the benefit of Turkey's economy. "Gold hidden under mattresses by Turkish citizens is a great power and a secret weapon for our economy," said Ozcan Halac, Chairman of the Istanbul Gold Refinery. Through various trade-in, recycling, and collection programs, gold deposits held with banks increased to 205 tons, worth 17 billion Turkish liras ($7.5 billion USD).
If the global financial crisis of 2007-08 taught central banks anything, it was that having protection and limiting systemic risk are vital. Therefore, in 2011 Turkey's central bank, the Türkiye Cumhuriyet Merkez Bankası or TCMB, implemented a policy allowing commercial banks to hold a part of their reserves in gold. The TCMB's goal was to boost Turkey's gold reserves, further mobilize the country's existing stock of gold, and reduce costs and improve liquidity in the banking system. The effectiveness of the policy has been debated, but the TCMB stated in January 2014 that "the new policy framework… has been successful in achieving a soft landing in the economy and lessening the financial stability risks" [emphasis added]. WGC concluded in its report that it has given banks more stability by improving their earnings and diversifying their assets.
Banks responded positively to the policy, creating numerous new types of gold accounts and lending products. Some banks even created gold-dispensing ATMs. By the end of 2013, 250 tons of gold worth about $10.4 billion USD had entered the financial system, mostly through individuals opening gold accounts. Another 40 tons were transferred from under-the-pillow stockpiles into the banks.
So what has all of this done for Turkey's economy? The TCMB's new policy shrank account deficits from 10% to 6% of GDP between 2011-12, and lowered volatility in the exchange rate. Some of the gold has been used to finance lending, much of which has supported local industry. "Without gold being mobilized, this lending may not have happened," wrote WGC in the report.
Conclusion
The report demonstrates gold's importance to individual investors, commercial banks, central banks, and entire countries. Gold can bring security and stability on a small or large scale, benefitting a single individual or, as the results of the TCMB's policy show, an entire financial system. Above all, it has supported the overall health of Turkey's economy and society by stimulating growth and providing stability amid a European debt crisis occurring right next door.
If gold has done so much for Turkey and its citizens, imagine what it could do for your portfolio. Call American Bullion today for more information on purchasing physical gold for secure home delivery or adding gold to your IRA or old 401(k). We make the entire process as quick, secure, and hassle-free for you as possible. Contact us today at 1-800-326-9598 to speak with one of our precious metals specialists, or request your Free Gold Guide by submitting the form at the top of this page.