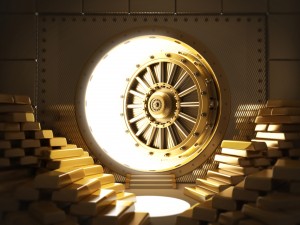 Have you thought about your precious metal depository? Many investors don't think twice about this, but it can make a big difference in the overall affordability, management, and security of your investments. If you open a precious metals IRA, the IRS will not allow you to maintain your gold yourself. In fact, if you touch your gold, it's considered a taxable distribution. To avoid this, you'll have to store your gold in a third party depository. You do have the right and ability to choose a depository. Before you do, though, it's important to know what to expect from these organizations.
How to Choose a Precious Metal Depository
A variety of factors should play a role in your decision on which depository to use. Keep in mind, as an IRA custodian, your dealer will send the precious metal directly to the depository rather than sending it to you first.
Depositories have a single goal: Keep your money and investment safe. Once funds go into this account, they are meant to stay there until you want to make a change. Several types of depositories exist. Perhaps the most secure option for today's IRA investor is a segregated account, which means that your specific bars of gold are kept away from others. When you go to withdraw your gold, you are getting the exact same bars that you originally deposited. Unsegregated storage holds the same age and type of precious metal together, rather than separating them.
It is also important to consider the amount of insurance the location carries. This should be as high as possible since it provides you with the confidence that your investments are safe. Most will charge you an annual storage fee that's based on the value of the gold you are storing there. Generally, this does not account for fees associated with moving gold.
The Benefits of the Delaware Depository
American Bullion uses Delaware Depository for storage for several reasons:
It is easily located to major access points but far enough from specific areas of political and financial risk such as Washington D.C. and New York City.
It is a regulated trust company that is compliant with all IRS requirements.
The building is a high-security, discrete location that's owned rather than leased. Access is limited and a 21-inch thick concrete, reinforced steel wall surrounds all vaults.
It has 24/7 monitoring and digital recording of all areas. It also features redundant power and communication sources for added protection and uses the most advanced technologies available for inventory control systems.
The organization has $1 billion worth of all-risk precious metals insurance that is underwritten by one of the most trusted names in insurance – Lloyds of London.
The precious metals depository you select should offer ample security but should also provide you with affordable storage costs. In many cases, it is best to work closely with your dealer to ensure that you know where your precious metals are going, what the fees are, and what level of insurance and security are present. It is wise to play an active role in deciding where your precious metals are stored.
Call American Bullion today at 1-800-326-9598 to speak with a Gold IRA expert about converting your retirement account into physical gold and silver to help reducing your risk from Wall Street.