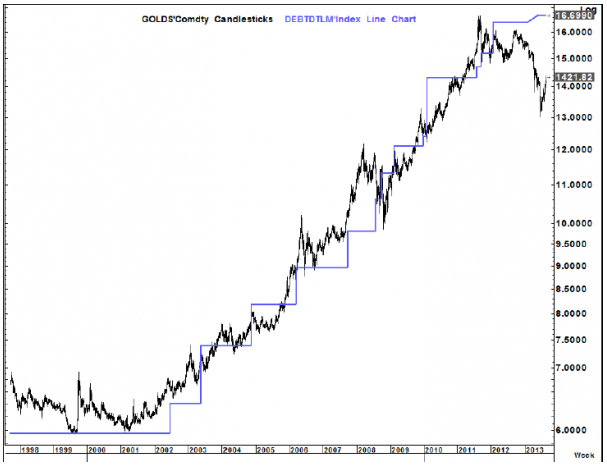 In a recent article posted by Citi FX Technicals on ZeroHedge, the case was made that it is no coincidence that gold values and the U.S Debt Limit have expanded together over the last 10-12 years.
As we continue to spend more than we earn and shift that liability to the next generation Gold has shown itself to be a very effective hedge against that policy. The recent "squeeze in Gold" has sent it significant below this "stairway to hell" chart (Debt limit) which has continued higher. Citi FX Technicals stated, we do not believe that this fall in Gold will be sustainable and expect new highs in the trend eventually.
As we headed towards the last Presidential election there was a considered view in the markets that by the end of President Obama's 2nd term the debt limit could be as high as $22 trillion. Then we got the sequester, a more rosy economic outlook, tapering talk and all this has been forgotten. For how long?
The market dynamics above combined with the change of leadership at the Fed may well be "resurrecting that thought". If so our 2nd favorite Gold chart comes into play. So what would a debt limit of $22 trillion over the next 2-3 years suggest for the Gold price?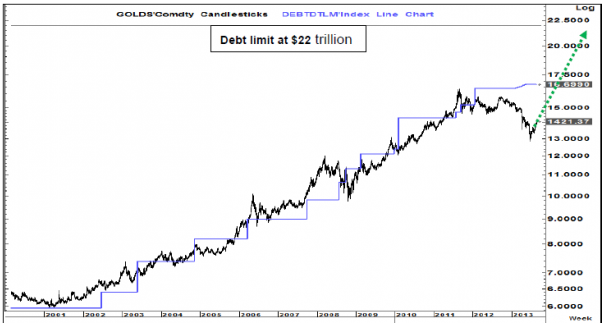 Bottom Line for Citi FX Technicals: We firmly believe that the Gold correction has "run its course" and that much higher levels will be seen in the years ahead.
Sources: ZeroHedge