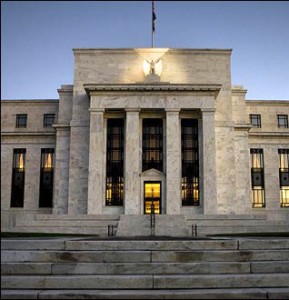 For the first time in nine years, a rate hike by the U.S. Federal Reserve seems to be on it's way. The mere mention of the possibility has the power to temporarily depress gold prices, however, historical evidence actually points to a rate increase being beneficial for gold over a period of several months. According to information from the St. Louis Federal Reserve and London Bullion Market Association, the current trading pattern of this precious metal is currently similar to behavior seen during the previous two rate hikes.
BullionVault's head of research, Adrian Ash, believes gold prices are currently poised for a substantial increase.
"Both June 1999 and June 2004 saw gold trade 6.6 percent lower from three months before a rate hike. It then rallied," said Ash. Ash went on to explain how gold prices are starting 6.5 percent lower than three months prior, and how post-hike gold behavior is becoming predictable.
After the last two rate hikes, gold prices soared over 10 percent in the year following each hike. After the June 1999 rate hike, prices went up 14 percent. Although the nation's economy is in a different place and historical averages aren't always trustworthy, experts believe a pattern is being established.
A look back at history shows us that gold surges higher during loose policy, acting as a hedge to buffer against inflation. Demand for gold normally goes higher when interest rates are low, as financial stimulus such as quantitative easing may encourage inflation.
Some investors are debating where the price of gold will level out, as well as whether or not the precious metal can surge higher this time- given the atmosphere of rapidly tightening economic policies. However many other experts, like Polymetal CEO Vitaly Nesis, remain bullish on gold, and point to the fact that the yellow metal has not shown as drastic a downturn as other metals have.
Another factor to consider when it comes to gold prices is the reduction in mining. With short-term prices reaching levels that make mining an unprofitable venture, miners will have to reduce their efforts. This, in turn, will cause gold prices to increase.
CEO Neil Passmore of Hannam & Partners recently revealed to CNBC his thoughts on gold prices.
"[The Fed decision] probably creates a little bit of local weakness for a few more months, likewise, I think there's a few pressures on the supply side of gold," Passmore said. "But medium to long term I think it's very hard not to remain quite bullish on gold, actually."
What does this mean for investors? Stay the course, trust in the stability of gold, and expect prices to continue their upward trend- those are the three main points experts are focusing on.
Call American Bullion today at 1-800-326-9598 to learn how easy it is to own gold and secure your financial future. Ask about opening a Gold IRA or making a purchase for direct delivery to your home. Piece of gold, peace of mind.
Although the information in this commentary has been obtained from sources believed to be reliable, American Bullion does not guarantee its accuracy and such information may be incomplete or condensed. The opinions expressed are subject to change without notice. American Bullion will not be liable for any errors or omissions in this information nor for the availability of this information. All content provided on this blog is for informational purposes only and should not be used to make buy or sell decisions for any type of precious metals.