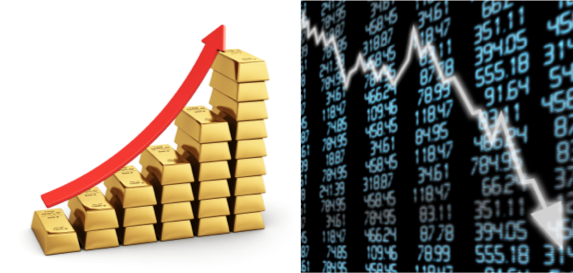 Gold rose nearly 2% on Tuesday, hitting its highest price since late October, as stocks slumped and cautious comments from Federal Reserve policymakers spurred a drop in the U.S. dollar. Spot gold reached as high as $1,226.80 an ounce, a rise of 1.8%, and U.S. gold futures jumped 2.5% to $1,224.80 an ounce. This is a significant increase above the $1,200 resistance level gold has been hovering around for some time.
Two Federal Reserve policymakers recently made comments regarding the timing of a potential interest rate hike in 2015 – an issue market watchers have been heavily scrutinizing. According to Reuters, "Dennis Lockhart, head of the Atlanta Federal Reserve, said late on Monday he was in no rush to drop the Fed's pledge to keep interest rates near zero for a 'considerable time', while San Francisco Fed chief John Williams said the phrase was still appropriate."
These comments led to a drop in the U.S. dollar, which fell 0.5% against a basket of major foreign currencies. Stocks also suffered losses, as S&P 500 futures began the trading day with a loss of 0.7% and European shares fell 2% as falling oil prices continued to hurt energy stocks. A weaker U.S. dollar and a declining stock market tend to strengthen gold's appeal as a hedge and a safe-haven asset.
Gold has rebounded 9% since hitting a four-year low last month, mainly due to concerns over central bank stimulus plans in Europe and Asia that could lift inflation.
Want to own gold? Call American Bullion today!
American Bullion helps thousands of clients own gold by either adding it to a retirement account or making a cash purchase for direct delivery. Our in-house IRA Processing Department specializes in converting your existing IRA, former 401(k), or other qualified retirement plan to a Gold IRA holding physical gold coins and bars. The process is 100% tax-free and hassle-free. For more information, call 1-800-326-9598 or request your Free Gold Guide today.