Gold mining is a truly global industry that employs millions of people and contributes significantly to many economies. For instance, gold mining makes up 22% of Mali's GDP and 14% of Peru's government revenue. The oldest gold mine ever discovered, located near Georgia's capital of Tblisi, is estimated to be approximately 4,000 years old. The deepest gold mine in the world, Mponeng in South Africa, is as deep as 10 Empire State Buildings.
Last month we released an infographic telling you which countries hold the most gold in their central bank reserves. This time, find out which countries produce the most gold. See what the top 10 gold-producing countries were in 2014 in our infographic below.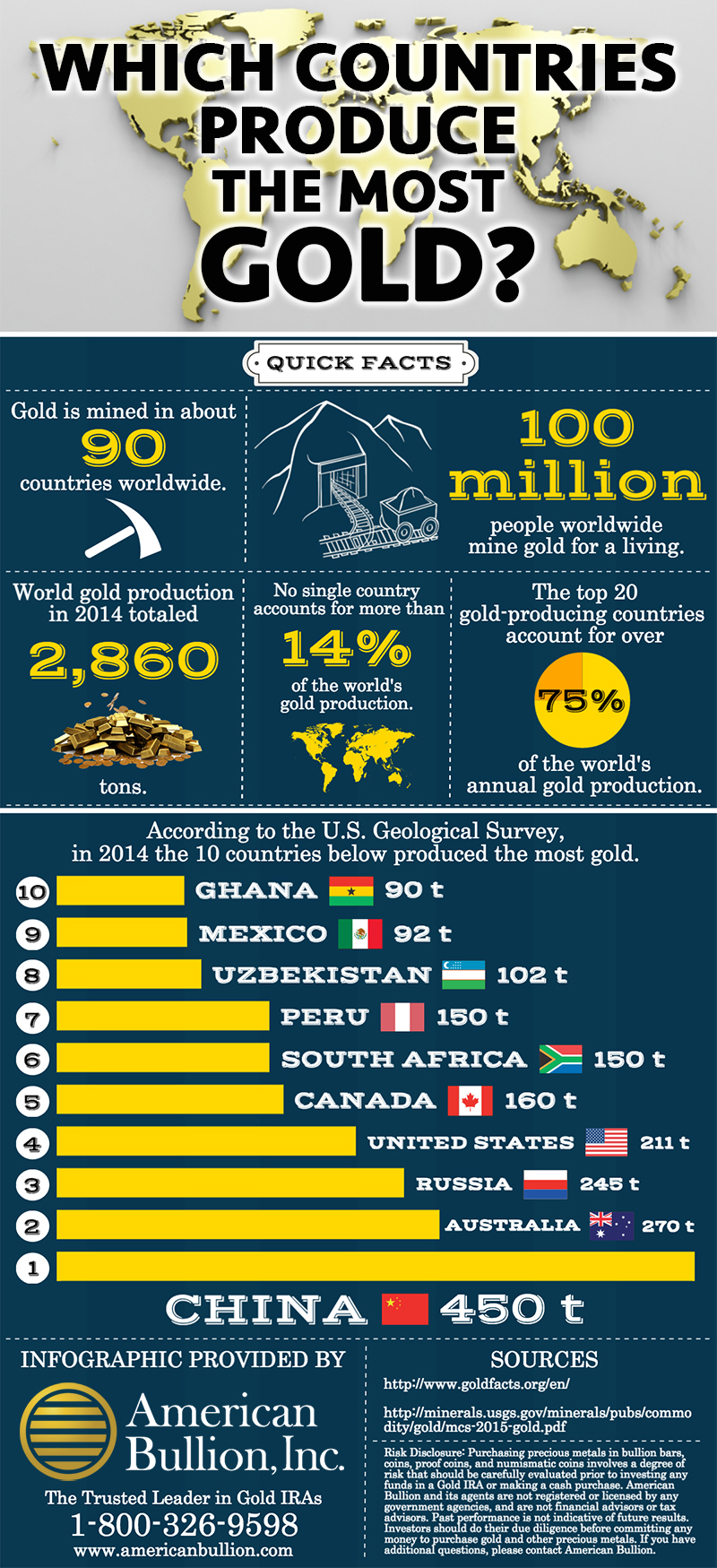 Call American Bullion today at 1-800-326-9598 to find out how easy it is to own the most precious metal in the world: gold.
SOURCES
http://www.goldfacts.org/en/
http://gizmodo.com/terrifying-facts-about-the-worlds-deepest-gold-mine-1484301368

About American Bullion
American Bullion, Inc. specializes in converting IRAs, old 401ks, or other qualified retirement accounts from paper-based assets to physical gold coins and bars through a Gold IRA rollover or transfer. We've pioneered a system to handle all the details for you, tax-free and hassle-free. Interested in buying gold and silver and storing it yourself, outside of your retirement account? Simple – we've insured and shipped millions of dollars' worth of gold, silver, platinum, and palladium to thousands of homes just like yours. As a U.S. Mint nationally listed dealer, we strive to be the best Gold IRA company in the industry and guarantee every transaction is fast, simple, and secure. See our American Bullion Reviews page for testimonials from our many satisfied clients.
—
Although the information in this commentary has been obtained from sources believed to be reliable, American Bullion does not guarantee its accuracy and such information may be incomplete or condensed. The opinions expressed are subject to change without notice.

American Bullion will not be liable for any errors or omissions in this information nor for the availability of this information. All content provided on this blog is for informational purposes only and should not be used to make buy or sell decisions for any type of precious metals.