Saint-Gaudens Double Eagle Gold Coins
About the Saint-Gaudens Double Eagle Gold Coin
The Saint-Gaudens Double Eagle Gold Coin is a twenty-dollar gold coin, or double eagle, that was produced by the United States Mint from 1907 to 1933. It is named after its designer, American sculptor Augustus Saint-Gaudens, and considered to be one of the most beautiful U.S. gold coins. In 1907, Saint-Gaudens redesigned the original $20 gold piece, employing as the obverse a motif of the figure of Miss Liberty striding forward. The initial Saint-Gaudens design was struck in high relief, giving the coins an almost sculptured appearance. The date was expressed in Roman numerals, MCMVII. Some 11,250 of these coins were struck, after which the design was modified to a shallow format to permit production on high speed coinage presses. It is a tribute to Saint-Gaudens that when the U.S. Mint in 1986 decided to create gold bullion coins, they could not improve upon what Saint-Gaudens did in 1907. Instead they resurrected his design, even using updated Roman numerals.
Benefits of Owning Saint-Gaudens Double Eagle Gold Coins
MCMVII High Relief pieces are scarce today, although probably at least 2,000 or 3,000 exist. The demand for them is such that they have always found a ready market. Nearly anyone who aspires to form a set of gold coins desires to own at least one specimen. Among later Saint-Gaudens double eagles of the modified design there are a number of scarce and rare issues, particularly among mintmark varieties of the 1920s. All issues after 1928 are rarities.
MS-63 Saint-Gaudens – Available for Purchase from American Bullion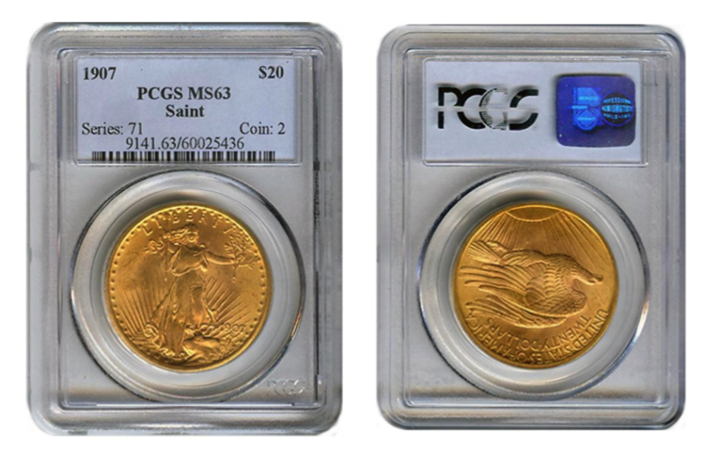 Saint Gaudens Double Eagle ($20)
| | |
| --- | --- |
| Value | 20 United States dollars |
| Mass | 33.431 g |
| Diameter | 34.1 mm (1.342 in) |
| Edge | lettered "E PLURIBUS UNUM" |
| Composition | 90% gold, 10% copper |
| Gold | .96750 troy oz |
| Years of minting | 1907–1933 |
| Mint marks | D, S. Found immediately above the date on the obverse. Philadelphia Mint specimens lack mint mark. |
More benefits and features:
Uncirculated and certified by PCGS or NGC.
Complete privacy is an option. (No SSN required when selling)
Higher scarcity value in addition to their gold content value.
Since they are certified, these coins are very liquid – easy to buy and easy to sell.
Their availability and/or pricing depend on their population. (Less population = higher prices)
Globally increased demand for gold in recent years has made these certified coins extremely popular among investors and collectors.
Purchasing Saint-Gaudens Double Eagle Gold Coins
For more information about purchasing Saint-Gaudens Double Eagle Gold Coins, call American Bullion at 1-800-326-9598 to speak with a numismatic precious metals specialist.