The chart below from Reuters shows that gold, despite its somewhat disappointing performance lately, has still been outperforming all major asset classes this year.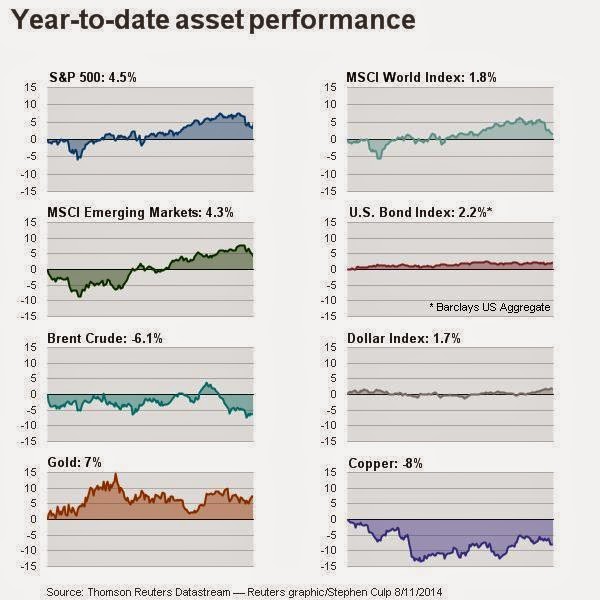 This can be attributed partly to the heavy amount of geopolitical risk present as of late – according to Zero Hedge, 11.7% of the world is at war right now – but that is not the whole story. Another explanation is that monetary policy in major countries has been loose and is expected to stay loose for longer than initially anticipated. Sober Look outlined six key indicators of this happening:
China's monetary policy has been supportive of more credit expansion.
Japan's growth is not likely to meet the Bank of Japan's expectations, possibly prompting Japan's central bank to accelerate its quantitative easing program (i.e. print more money) or extend it for a longer period of time.
The unemployment rate in Australia has been higher than expected, suggesting that Reserve Bank of Australia interest rates may remain low for a while.
Economic data from Europe is pointing to a slowdown, and a number of European Union member states are experiencing dangerously low inflation levels. The European Central Bank may be compelled to do something to combat this.
"

While the US recovery remains stable and the Fed continues to taper securities purchases, the 'effective' monetary policy has become looser that it was a year ago. One can gauge this by looking at longer-term real (as opposed to nominal) rates. The 10-year real rates in the US for example have been declining, now below 20bp. That is clearly an accommodative trend," explains Sober Look.

In the United Kingdom, although there has been chatter about the Bank of England raising short-term interest rates, government bond yields have been in the negative.
In summary, two major driving factors of gold – geopolitical risk and loose monetary policy – have been at the forefront this year, so it is no wonder that gold has been outperforming other asset classes. Keep in mind that the issues discussed in this list are not likely to go away any time soon, and it is never too late to think about protecting your assets – particularly your retirement. Gold has proven to be a successful long-term hedge against geopolitical and economic uncertainty, and as of 1997 the IRS allows tax-deferred investment in physical gold and other precious metals in an individual retirement account. Call American Bullion today at 1-800-326-9598 to speak with a specialist about opening a Gold IRA to better secure your financial future.