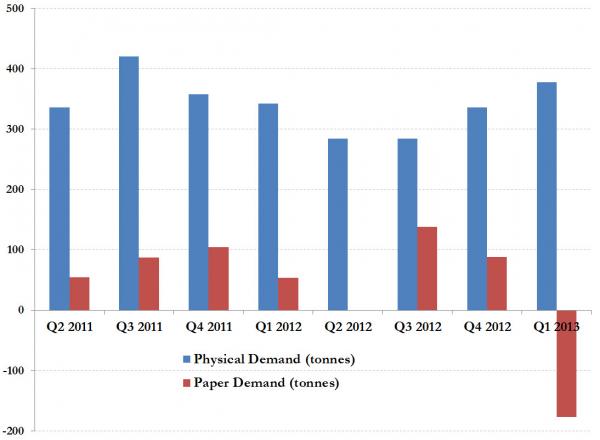 The World Gold Council recently released a report stating the following key findings:
• Total demand in China totalled 294t in the first quarter, a rise of 20% on the same quarter last year, as the economy continued to pick up from the downturn experienced in the second half of 2012. Bar and coin investment was 110t, rising by 22% from last year.
• The Indian market also demonstrated a continued appetite for gold. Total demand was 257t, up 27% on the same quarter last year. Retail investment was up 52% while jewellery was up 15% on Q1 last year.
• Q1 2013 was the seventh consecutive quarter in which central banks acquired more than 100t of gold, and the ninth consecutive quarter in which central banks have been net purchasers as they diversify their portfolios. Central bank net purchases were 109t in Q1 2013, although the figure was 5% lower than the purchases a year ago.
• ETFs saw a net outflow of 177t in the quarter. By contrast there were strong inflows into other forms of investment: bar and coin demand was 378t, 10% higher than last year.
"The price drop in April, fueled by non-physical moves in the market, proved to be the catalyst for a surge of buying that has left many retailers short of stock and refineries introducing waiting lists for deliveries. Putting this into context, sales of bars and coins, jewelry and consumption in the technology sector still make up 81% of the market." stated Marcus Grubb, Managing Director of the World Gold Council. "What these figures show is that even before the events of April, the fundamentals of the gold market remain robust with growing demand in India and China, central banks consistently adding gold to their reserves and strong buying of investment products such as gold bars and coins."
Bottom Line: In the face of the huge 'paper' gold ETF outflows, 'physical' gold demand surged to its highest in 18 months.
About American Bullion
American Bullion has assisted thousands of individuals with the process of adding gold, silver, platinum and palladium to their individual retirement accounts. If you are interested in purchasing precious metals for your IRA, call American Bullion at 1-800-326-9598 to speak with a precious metals specialist about the benefits of gold or silver in a self-directed IRA. 
Resources: World Gold Council,  Zero Hedge