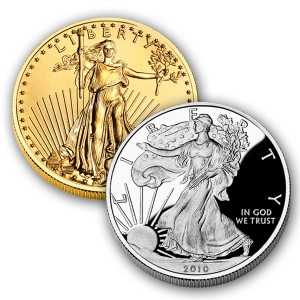 Gold and silver hit their lowest prices since 2010 on Friday amid a strong dollar and the Federal Reserve's termination of its quantitative easing (QE) program.
The U.S. dollar strengthened against the Japanese yen after the Bank of Japan announced it would increase its stimulus spending. Jeffrey Sica of Sica Wealth Management said "The main reason for gold's fall is the strength in the dollar after the BOJ's desperate efforts to weaken the yen."
He also said gold "could fall further in the short term as the dollar could rise more in the short term, but gold should eventually benefit as a hedge against the uncertainties and economic turmoil brought by central-bank actions."
In addition to the price drops, U.S. retail demand for silver and gold coins is up. The U.S. Mint saw a jump in sales of its three most popular bullion coins on Monday. Scott Spitzer, CEO of the coin dealer Manfra, Tordella & Brookes, said this shift in the market has attracted the attention of many buyers. "We have seen buying interest from some customers whom we haven't seen for some time. The pick-up in interest is similar to what we had experienced during the big pullback last year," he said.
It is often noted that consumers and investors turn to precious metals in both good times and bad. As American Hard Assets writes in their piece titled "Gold is a Durable Investment in Good or Bad Times":
"In many other countries however, the WGC or World Gold Council finds that there is a so-called 'growth dividend.' In times of economic downturns, gold is a valuable hedge. On the other hand, it also is a consumer good, and in times of economic growth consumers will invest their money on various forms of gold … In other words, American investors need only to have a good strategy in hand to be able to play the gold market well, whether it is during recession or boom times." [emphasis added]
If these lower prices have you thinking about purchasing precious metals, American Bullion is here to help. Call us at 1-800-326-9598 to speak with an agent about buying gold or silver for home delivery or for your retirement account through a Gold IRA.