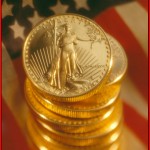 Los Angeles, CA – Gold futures traded solidly lower Wednesday morning on selling pressure following Tuesday's news from the Federal Open Market Committee (FOMC) and stress test news from J.P. Morgan. Gold prices hit a fresh seven-week low, trading $ 33.80 lower at $1660 an ounce on Wednesday. Silver also traded lower, down .42 cents at $33.15 an ounce.
The precious metals market took a sharp decline after the Federal Reserve announced its acknowledgment that the economic outlook is improving during the latest meeting of the Federal Open Market Committee (FOMC). This acknowledgment coupled with a still-low inflation expectation forecast caused the U.S. dollar index to rally to a seven-week high. In addition, the Fed reported that retail sales posted their largest gain in five weeks, which further painted a picture of an improving economy and gave a slightly reduced prospect for the arrival of another round of quantitative easing.
In addition, J.P. Morgan announced a dividend after a successful government conducted a stress test. The passing of this stress test caused the company to declare a dividend as well as a payback of a big chunk of its government loans. This news combined with the FOMC news caused a rally in the U.S. dollar index, hitting a fresh seven-week high.
Despite this news of economic optimism, overall improvement in the global fiscal condition remains unchanged.  No significant changes or news of improvements have occurred in the European Sovereign debt crisis. Further, nothing has been done to alleviate the nearly 16 trillion dollar deficit the United States faces. "Despite some recent signs of improvement, the recovery has been frustratingly slow, constraining opportunities for profitable lending," Federal Reserve President Ben Bernanke stated Wednesday morning at the independent community bankers of American National convention in Nashville, Tennessee. Bernanke went on to say that overall unemployment levels are still 'elevated' and that strain in global markets "continue to pose significant downside risks to the economic outlook". Jack Barnes, the writer for The Market Oracle, sees the dip in gold prices as a "buying event and nothing more".
Take advantage of the pullback in prices of gold and silver; contact American Bullion to learn how you can own physical gold for home delivery or to convert some of your paper-backed assets in your retirement account into a gold IRA or silver IRA. Call 800-326-9598 or email us at info@americanbullion.com for more information.