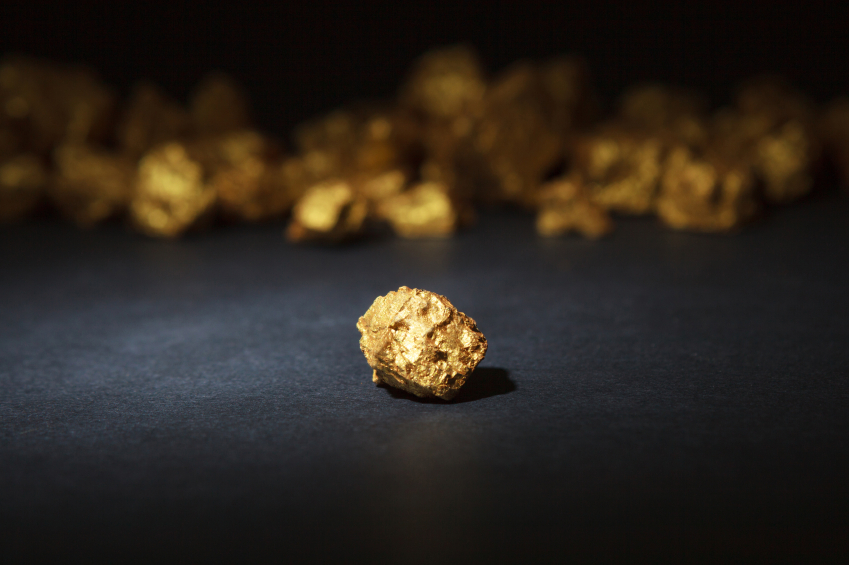 Gold's extreme rarity is one of the major factors contributing to its high value and status as a "precious" metal. But just how rare and scarce is it at this point?
According to report by Goldman Sachs on commodity scarcity, the world could run out of mineable gold in 20 years.
"The combination of very low concentrations of metals in the Earth's crust, and very few high-quality deposits, means some things are truly scarce," Eugene King, European metals and mining analyst at Goldman Sachs, said in a note. "Their relative scarcity, and the market's belief that new discoveries will be limited, is what drives the price of these super rare commodities."
The report used the chart below to show that "there are only 20 years of known mineable reserves of gold and diamonds":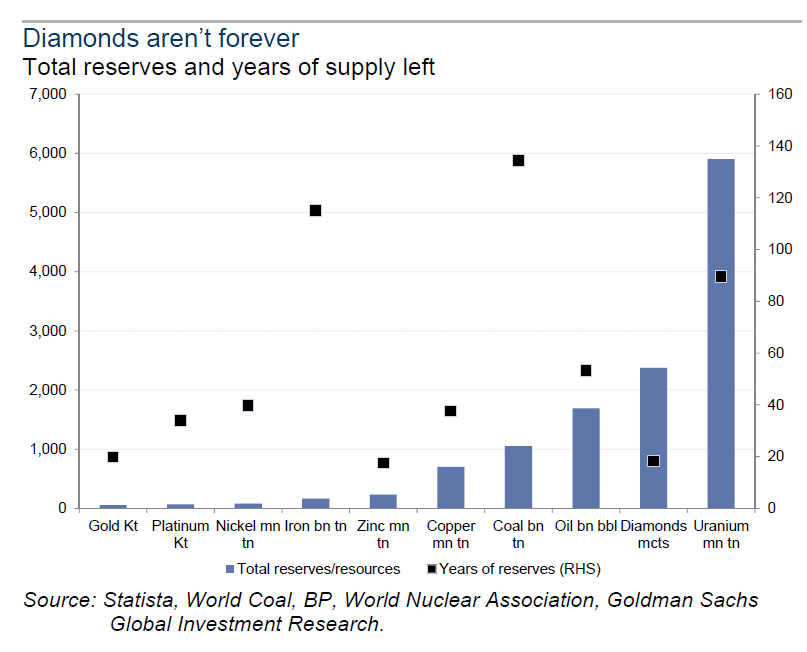 Of course, new discoveries of gold deposits can be made, but lately they have proven hard to come by. The chart below shows the steep decline in discoveries since 2008 (also note how few discoveries were made in 2010-2013):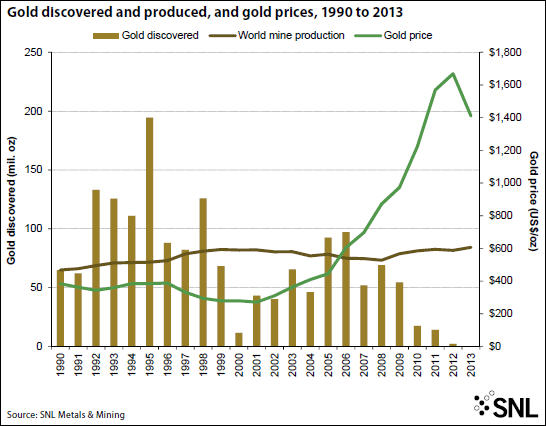 Gold exploration and discovery projects are expensive and involve a high risk that little or nothing will be found. They're especially difficult to carry out now with gold at relatively low prices.
The belief that miners have reached "peak gold" is not new. Chuck Jeannes, CEO of Goldcorp, told the Wall Street Journal in September: "Whether it is this year or next year, I don't think we will ever see the gold production reach these levels again. There are just not that many new mines being found and developed." To demonstrate this point, Goldcorp showed the following chart in its October 2014 Corporate Update presentation: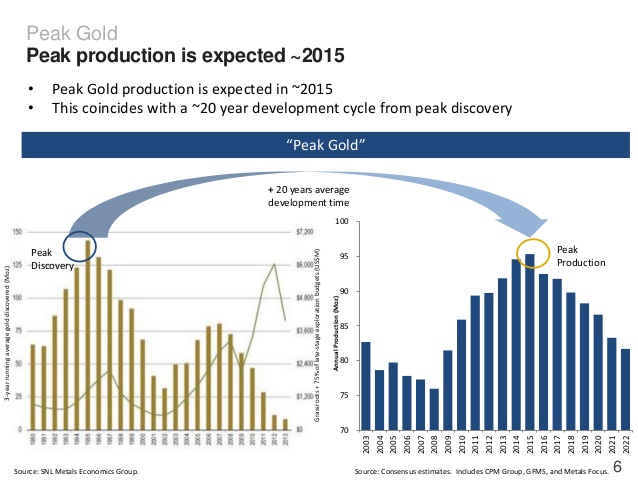 So what could this mean for gold? A constrained supply, as well as the fact that gold is currently selling for just above the cost to produce it, should help gold prices rise. At the very least it should limit the downside, which at this point seems far less than the upside.
Want to take advantage of this unique opportunity? Call American Bullion today at 1-800-326-9598 to speak with a precious metals broker about adding physical gold to your retirement account or purchasing gold coins and bars for secure delivery to your home. You may also request a Free Gold Guide for more information.
About American Bullion
American Bullion, Inc. specializes in converting your IRA, old 401k, or other qualified retirement account to a self-directed IRA capable of holding physical gold coins and bars, known as a Gold IRA or Precious Metals IRA. We've pioneered a system to handle all the details for you, tax-free and hassle-free. Want to buy gold and silver and store it yourself, outside of your retirement account? Simple – we've insured and shipped millions of dollars' worth of gold, silver, platinum, and palladium to thousands of homes just like yours. As a U.S. Mint nationally listed dealer, we strive to be the best Gold IRA company in the industry and guarantee every transaction is fast, simple, and secure. See our American Bullion Reviews page for testimonials from our many satisfied clients.
—
Although the information in this commentary has been obtained from sources believed to be reliable, American Bullion does not guarantee its accuracy and such information may be incomplete or condensed. The opinions expressed are subject to change without notice.

American Bullion will not be liable for any errors or omissions in this information nor for the availability of this information. All content provided on this blog is for informational purposes only and should not be used to make buy or sell decisions for any type of precious metals.