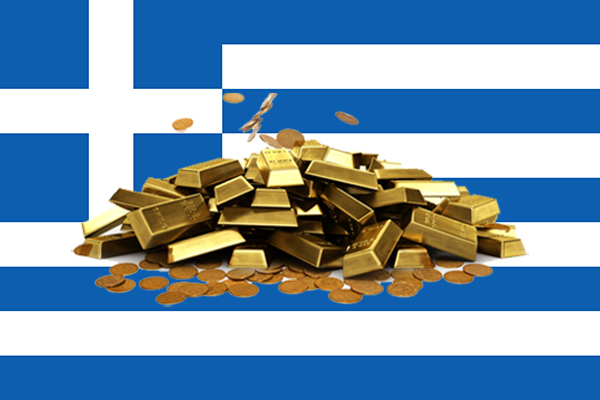 Greeks wanting to secure their money in recent months before a potential bank shutdown, which indeed occurred on Monday, chose to put their money into – you guessed it – gold.
The Wall Street Journal wrote:
Spooked by the country's escalating debt crisis, Greeks yanked billions of deposits out of the country's banks in recent months until the government shuttered them. Where is the money going?
While some of it is likely stuffed under mattresses or deposited in overseas accounts, a chunk has already been used to buy gold — gold coins to be exact.
The U.K. Royal Mint, the official government mint of the United Kingdom, said in a statement it "experienced twice the expected demand for Sovereign bullion coins from our customers based in Greece" in the month of June. The Royal Mint did not disclose official sales figures, but said the recent rise in Greek demand was twice the monthly average over the last five months.
Meanwhile, the Germany-based bank Commerzbank acknowledged in a research note that Germany could theoretically pay off its debt by selling off some of its gold reserves, but also admitted it's an unlikely scenario.
"According to the latest [International Monetary Fund] statistics, the Greek central bank holds 112.5 tons of gold, worth €3.8 billion at current market prices. This equates to a good 1% of Greek government debt and 66% of Greek foreign currency reserves. Greece could in theory meet the €1.5 billion payment due to the IMF at the end of the month by selling 47 tons of gold from its reserves, if no agreement is reached with international creditors on the payment of bailout funds," the statement read.
According to the statement, Commerzbank believes Greece selling its gold reserves is unlikely because "selling gold would deprive the country of its only really valuable reserves, which could be put to good use at a later date, perhaps to stabilize a new currency if Greece exits the euro."
For more on central bank gold holdings, see our infographic series Gold: How the World Stacks Up.
Follow in the Greeks' Footsteps: Buy Gold Today
There's a reason so many Greeks have been rushing to gold in anticipation of an economic breakdown: gold is a means to keep your money out of the hands of government and the markets. While the United States' economic situation is nowhere near as dire as that of Greece, gold will always be a safe-haven asset and a means of preserving your wealth in times of crisis. American Bullion helps individuals own physical gold and silver. You may choose to add physical gold to your retirement account or purchase coins and bars for direct delivery. Call us at 1-800-326-9598 today to find out how simple it is.
SOURCES:
http://blogs.wsj.com/moneybeat/2015/06/30/greeks-turn-to-the-u-k-s-royal-mint-for-gold/
http://www.kitco.com/news/2015-06-19/Could-Greece-Sell-Its-Gold-Reserves.html
—
Although the information in this commentary has been obtained from sources believed to be reliable, American Bullion does not guarantee its accuracy and such information may be incomplete or condensed. The opinions expressed are subject to change without notice.

American Bullion will not be liable for any errors or omissions in this information nor for the availability of this information. All content provided on this blog is for informational purposes only and should not be used to make buy or sell decisions for any type of precious metals.