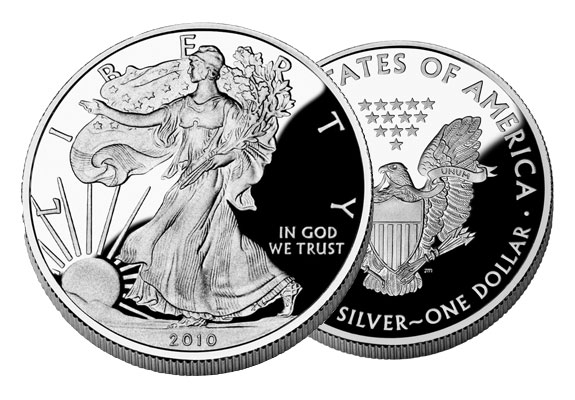 While gold has many advantages when it comes to protecting your wealth, silver can also be a great addition to your portfolio offering some benefits that gold does not. For example, the silver price has been hovering around $20 per ounce over the past year, and its highest-ever price was about $50 an ounce. Compared to gold, platinum, and palladium (which cost at least 40 times as much), silver has a very low buy-in price, less risk, and plenty of room for growth. Therefore, for investors who are a little reluctant about precious metals, silver is a perfect place to start and a stepping stone to learning more about the world of precious metals investing. 
Jeff Clark of Casey Research is particularly excited about silver right now. In Seeking Alpha, he writes of seven reasons he's buying silver now:
When adjusted for inflation, the silver price still has a long way to go. Considering the current inflation levels, one would expect silver prices to be much higher than they are right now. Since they are not, one can conclude that the silver price has much room for growth.
Silver's price relative to production cost is low. Silver producers have been forced to lower production costs after last year's sharp drop in the silver cost, and while some have done so, profit margins have largely been narrowing. Relative to production costs, the silver price is at its lowest level since 2005. This is not sustainable in the long-term, so prices may have to rise in order to accommodate.
Inventories are low. The amount of silver not held in exchange-traded funds (ETFs) is 241 million ounces, which represents only 25% of one year's supply. If a new surge in demand occurs without any significant changes in supply, prices will have to increase as well. Interesting fact: "If the global annual mine production of silver were cast into one large silver pyramid, it would be approximately – wait for it – only 65 feet high on a base of only 65 feet square. Rather tiny!" (read more)
Silver's current bear trend may be coming to an end. Historical data from six decades of silver bear markets signals that the current one may be nearing conclusion, meaning silver is currently a low-risk investment not likely to fall much further.
 Silver is very inexpensive compared to other metals.
Silver currently represents only 0.01% of the world's financial wealth. Again, this means the metal has serious room for growth.
Chinese investors are trading more silver than ever. The Shanghai Futures Exchange has overtaken the Comex and become the world's largest futures silver exchange, accounting for 48.6% of all trading volume in 2013. The trend has been crunching supply while Chinese demand is expected to continue growing – two factors that should translate to higher prices.
If you're suddenly more excited about silver and convinced of its unique benefits, remember that the IRS allows investment in physical silver among other precious metals such as gold for your retirement portfolio. Adding silver to your individual retirement account is a smart way to further diversify your investments while also better protecting your wealth. If you're interested in opening a Silver IRA or adding silver to your precious metals IRA, call American Bullion today at 1-800-326-9598 to speak with one of our knowledgeable specialists.