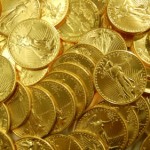 Los Angeles, CA – Gold prices fell sharply Wednesday, trading down more than $60, or approximately 4%, to $1715.00 an ounce after market participants interpreted Federal Reserve President Ben Bernanke's remarks to Congress as negative for the prospect of another round of quantitative easing (QE3). In addition, profit-taking measures from technically-oriented traders also caused gold to sink on suspicion that the precious metal would be stalling shy of the $1800 an ounce level.
Many market analysts are interpreting the reason for the drop in gold prices as speculation that Federal Reserve chairman Ben Bernanke will not conduct another round of quantitative easing. In his report to Congress Wednesday morning, Bernanke said "The decline in the unemployment rate over the past year has been somewhat more rapid than might have been expected, given that the economy appears to have been growing during that time frame at or below its longer-terms trend." Better than expected unemployment rate news caused many traders and market analysts to believe the economy is improving, and as a consequence, a sell-off in safe-haven investments occurred. However, this sentiment is only speculative and interpretative, and little has changed with the overall economic situation. "Gold bugs have seen this movie before" commented Mike Daly, gold and silver specialist with PFGBEST. "When we got up around $1800 the last few times, we broke hard. I'm actually looking at this as a buying opportunity."
One other factor that may have caused gold to decline was news that North Korea has agreed to halt nuclear tests. If true it would mean the removal of at least one of the world's geopolitical concerns, which can lead to safe-haven buying. Nonetheless, statistical data supports that the drop in the gold price is partly due to traders wanting to book profits ahead of month's end. "We've been correction-free since toward the end of December (2011)" said Daly. "So seeing a large move down like this shouldn't surprise anyone as the market was ripe for profit taking."
Take advantage of the pullback in prices of gold and silver. Contact American Bullion to learn how you can own physical gold for home delivery or convert some of your paper-backed assets in your retirement account into a gold IRA or silver IRA. Call 800-326-9598 or email us at info@americanbullion.com for more information.