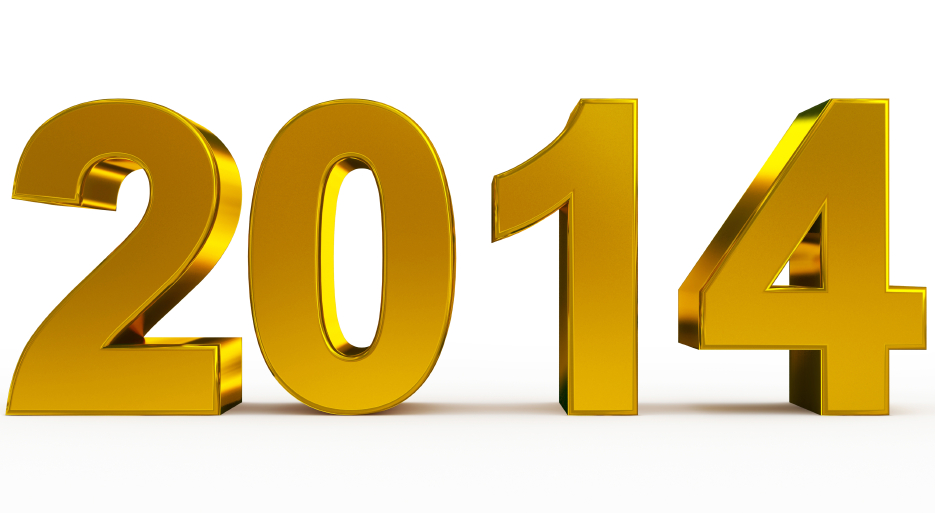 As 2014 comes to a close, it's time to take a look back at the year in gold. What were the highs, and what were the lows? What were some of the most popular posts on our blog? We answer these questions below.
Enjoy, and best wishes for the new year!
2014 Highs and Lows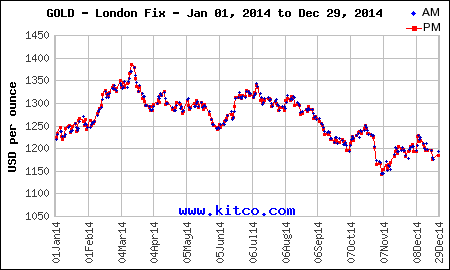 According to data from Kitco, gold hit its 2014 high on March 14, at $1,385 per ounce on the London PM Fix. This was sparked mainly by concerns over escalating tensions between Russia and Ukraine. In late February, after Ukraine staged a revolution and ousted its president Viktor Yanukovych, Russia began sending troops and military equipment into Ukraine
American Bullion Facebook page
in what has been deemed a "stealth invasion". On March 13, a Russian armored vehicle fired shots near the Ukrainian border when a Ukrainian Border Service patrol plane was inspecting the area. These events concerned investors, spurring them to buy gold for protection.
Gold's 2014 low was $1,142 per ounce on the London PM Fix, reached on November 5. This was a 4-½ year low for gold, as strong rallies in the U.S. dollar and the stock market pulled money away from the yellow metal. It rallied back above $1,200 about two weeks later.
Gold's cumulative average for 2014 was $1,266.40.
2014 Popular Blog Posts
Based on Facebook likes, the most popular posts on our blog for each quarter of 2014 are below. Visit the American Bullion Facebook page if you'd like to start keeping up with the blog.
Q1: "This Week in Gold: Ukraine, China, and U.S. Jobs Data"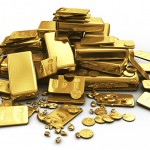 Published on March 14th, this post summarized the week's events in gold, which included the growing crisis in Ukraine, concerns over a slowing Chinese economy, and positive jobs data. It's no surprise that this blog was popular, considering gold hit its 2014 high the day it was published.
Q2: "The History of American Gold Eagle Coin Production"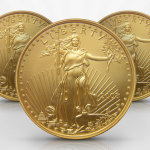 This was a fun blog describing how American Gold Eagle Coins are made, and how the process has evolved since 1986 when they were first minted. Over 13 million of these coins have been struck to date. The process involves temperatures as high as 2,100° F and machines exerting over nine tons of pressure.
Q3: "Seasonal Demand: Why is September Important for Gold?"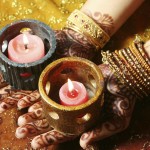 This post explained why September has historically been a good month for gold. September's proximity to holidays where gold is often given as a gift or used for decoration – such as Diwali and Christmas – is a strong contributing factor, as higher demand comes in anticipation of these holidays.
Q4: "This Week in Gold: Mining news, common Gold IRA questions, and more"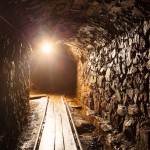 This weekly wrap-up post recounted an interview with prominent mining analyst Thomas Schuster, five commonly asked questions about Gold IRAs, and the question of gold hitting a bottom. Schuster said in the interview that "Gold will rebound, it always has and always will."
American Bullion wishes everyone a Happy New Year!
American Bullion is extremely proud to be ending another year of helping clients own physical gold and other precious metals. We thoroughly enjoy providing our clients with the financial security, purchasing power protection, and peace of mind that precious metals ownership can offer. If you've made it your New Year's resolution to better protect your financial future, American Bullion can assist you with that goal in a secure, swift, and hassle-free manner. Call us today at 1-800-326-9598 to purchase physical precious metal coins and bars or even add them to your retirement account. May 2015 bring you health, wealth, and happiness!