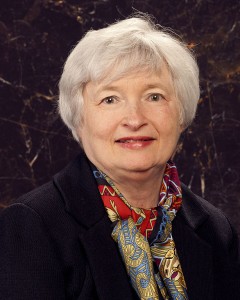 Federal Reserve Chair Janet Yellen completed her semiannual report to Congress on Wednesday, testifying before the House Financial Services Committee and the Senate Banking Committee. Here are four important takeaways from her testimony, and what it has to do with gold.
1. Yellen is happy with the recent economic growth – but sees room for improvement
On economic growth, Yellen is pleased with the recent progress made, but sees room for improvement in unemployment, wage growth, and inflation. She said the following in her testimony:
"There has been important progress. However, despite this improvement, too many Americans remain unemployed or underemployed, wage growth is still sluggish and inflation remains well below our longer-run objective."
2. The Fed will remain "patient" on raising interest rates
Yellen reiterated that the Fed will exercise patience on the issue of raising interest rates, and that the timing depends largely on inflation. Currently, U.S. inflation is below the Fed's target annual rate of 2%. Yellen said in her testimony that the Fed will not raise rates until it is "reasonably confident" that inflation will reach this 2% goal.
And what would make the Fed feel "reasonably confident" that inflation will hit 2%? Yellen mentioned the labor market, saying: "We have seen improvement, and if we continue to see improvement, it would add to my confidence…that inflation will be back up."
She also said that "[i]f economic conditions continue to improve," the Fed will begin considering an increase in rates on a meeting-by-meeting basis. Many economists believe an increase may occur as early as June.
3. There is some concern among Congress about the Fed acting too soon…or too late
Senator Richard C. Shelby (R-AL), who leads the Senate Banking Committee, expressed concern that by continuing to keep rates low, the Fed is inflating the financial markets and risking higher inflation down the road. He said patience in raising rates "could lead to a more painful correction down the road."
Senator Sherrod Brown (D-OH), ranking member of the Senate Banking Committee, disagrees, believing concerns about inflation are misguided. He sees low wage growth and declining participation in the work force as bigger problems.
Yellen said the Fed is seeking a balanced approach, taking both concerns into consideration.
4. Yellen strongly opposes the "Audit the Fed" bill
A large portion of the hearing was dedicated to the so-called "Audit the Fed" bill, which Republican Senator Rand Paul of Kentucky strongly supports. The issue of auditing the Fed is a controversial one, and has proponents and opponents on each side of the aisle. Yellen opposes such a bill, and adamantly declared in her testimony that the Fed is already audited (Paul, however, wants the Fed to be required to disclose where it buys its debt). She fears that the bill, if passed, would politicize the Fed's monetary decisions and possibly prevent policymakers from making tough decisions. Senator Shelby said the panel would hold a hearing next week to discuss proposals.
What does this have to do with gold?
As Senator Shelby as well as former Fed Chairman Alan Greenspan have stated, the financial markets could be in for a rude awakening once the Fed stops propping them up through low interest rates. If a correction or even a crash does occur, gold could see huge increases. And should there be such an occurrence, wouldn't you want your portfolio to be protected? Consider proactively safeguarding and diversifying your portfolio before potential crisis by buying physical gold, silver, or other precious metals. It can give you tremendous peace of mind regarding the safety of your investments. Call American Bullion today at 1-800-326-9598 to speak with a precious metals broker, or request your Free Gold Guide by filling out the form at the top of this page.
About American Bullion
American Bullion, Inc. specializes in converting your IRA, old 401k, or other qualified retirement plan to a self-directed IRA capable of holding physical gold coins and bars, known as a Gold IRA or Precious Metals IRA. We've pioneered a system to handle all the details for you, tax-free and hassle-free. Want to buy gold and silver and store it yourself, outside of your retirement account? Simple – we've insured and shipped millions of dollars' worth of gold, silver, platinum, and palladium to thousands of homes just like yours. As a U.S. Mint nationally listed dealer, we strive to be the best Gold IRA company in the industry and guarantee every transaction is fast, simple, and secure. See our American Bullion Reviews page for testimonials from our many satisfied clients.
SOURCES
http://www.nytimes.com/2015/02/25/business/economy/fed-chief-yellen-testifies-before-congress.html?_r=0
http://money.cnn.com/2015/02/11/news/economy/rand-paul-audit-the-fed/

—
Although the information in this commentary has been obtained from sources believed to be reliable, American Bullion does not guarantee its accuracy and such information may be incomplete or condensed. The opinions expressed are subject to change without notice.

American Bullion will not be liable for any errors or omissions in this information nor for the availability of this information. All content provided on this blog is for informational purposes only and should not be used to make buy or sell decisions for any type of precious metals.