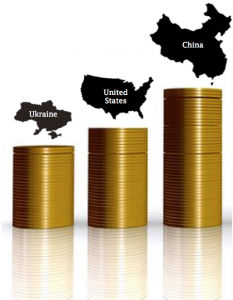 Gold started the week around $1,330 per ounce and is up about 9% for the year. It saw gains and losses through mid-week and is now set to level out right where it started on Monday. While fluctuating gold prices may strike fear into some, keep in mind that countries like the United States, China, and Ukraine have a strong effect on the future of gold. Here's a quick recap on how these countries will keep gold strong as 2014 finishes out its first quarter.
U.S. Inflation and the Protection of Gold
The Federal Open Market Committee (FOMC) meeting this past Wednesday did not deliver the best news for gold investors. Gold dropped close to 1% after yet another call for tapering. The Fed has taken another $10 billion-per-month step back from bond purchases to help slow down the stimulus program.
What does that mean for gold? The United States Federal Reserve has a significant influence over the yellow metal. The current stimulus program is pumping $65 billion into the U.S. economy, which has many investors concerned about inflation. As inflation grows, the value of the dollar consequently decreases. Gold is traditionally seen as a safe haven from the dangers of inflation. Therefore, smart investors may flock to the security of gold in an effort to protect their wealth as inflation continues to grow. These actions would increase the value of gold and keep it strong in the upcoming months.
Unrest in Ukraine and the Safety of Gold
Violence has been escalating in Ukraine for the past few weeks. There was a brief moment of peace when the government and protesters called a truce last Wednesday, but the proposal for peace was brief. Gunfire was reported less than twenty-four hours after the truce was made, sending Ukraine and its citizens back into turmoil.
It may seem unrelated that socio-political unrest in Ukraine could affect the price of gold, but this type of turmoil is exactly what could cause a jump in gold price. This sentiment was supported by Jeffrey Wright, managing director at H.C. Wainwright Investment Bank, in a recent article published on MarketWatch.com: "Gold saw a little safe-haven demand in response to the escalating crisis in the Ukraine. Gold looks to build upon gains into next week [and] in the near term."
Economic turmoil almost always bodes well for gold, no matter what country it occurs in. As Ukraine deals with the social chaos brewing among its citizens, it faces serious issues with the value of its currency. Therefore, any global investors who hold investments tied to Ukraine are eager to get out of that investment, and are looking for something more stable – such as gold.
China's Escalating Demand and the Value of Gold
Demand from China was massive in 2013. Demand for gold bullion and jewelry jumped 32%, bringing the import total to 1,066 metric tonnes. According to the World Gold Council, this won't be a one-time deal. The WGC expects China to remain strong in its demand for precious metals, with gold consumption expected to reach above 1,000 metric tonnes again this year.
This aggressive demand for gold points to good news. As with most investments, the stronger the demand, the higher the price. As 2014 continues, there seems to be little sign of China slowing down: "As incomes rise in China, people view gold, whether in the form of bars, coins or jewelry, as a natural vehicle for savings and diversification. Shorter term, rising affluence is also driving Chinese to buy gold as a hedge against China's teetering property sector and a stock market that's fallen nearly 40% over the past four years. If bouts of cash crunches continue this year and economic data disappoints, that will likely drive Chinese to continue buying gold to preserve their wealth."
Investors would be wise to keep an eye on gold in relation to the U.S., Ukraine, and China. The underlying theme for all these countries is wealth preservation. Whether against risks of inflation, socio-political unrest, or stock market issues, gold is a trusted save haven on a global scale.
Have Questions? Talk with an American Bullion Expert Today.
American Bullion is a nationally-listed precious metals dealer that specializes in gold retirement accounts. We help clients roll over or transfer funds into a precious metals IRA, whether it's a gold IRA, silver IRA, or other precious metals. We pride ourselves in walking you through a tax-free and hassle-free rollover process along with a comfortable atmosphere for clients to buy gold. For more information, speak with one of our knowledgeable precious metals experts today at 1-800-326-9598.
Resources: Forbes, FoxBusiness, MarketWatch, Reuters