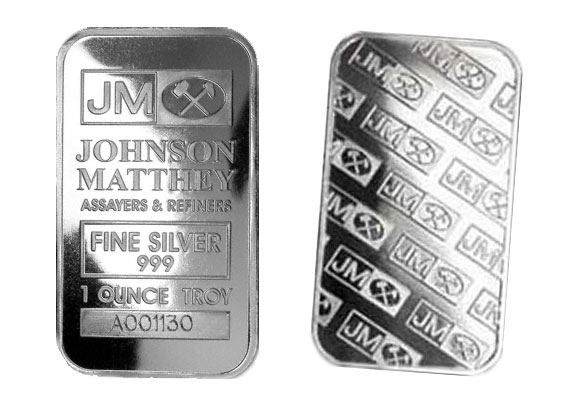 About Johnson Matthey Silver Bars
The Johnson Matthey Silver Bar is one of the most recognizable forms of silver bullion in the world today. These bars come in various sizes and meet all of IRS requirements for use in your self-directed IRA. This multi divisional company has been operating for over 150 years. Through the 20th century Johnson Matthey expanded internationally through South Africa, Australia, the U.S., Japan and more. This award winning company has been recognized for its business savvy, environmental achievements as well as international trade. The precious metals division of their company handles an immense amount of gold, silver, platinum and palladium every year. With refineries in both the U.S. and United Kingdom, Johnson Matthey has amassed a substantial global client base of technology, recycling, industrial and jewelry companies.
Johnson Matthey Silver Bar Specs
With the above track record it's easy to see why so many investors trust Johnson Matthey Silver Bars. Bars range from one ounce up to 1 kilogram in weight. Every bar consists of .999 fine silver. Johnson Matthey are available in 1oz, 10oz and 100oz silver bars with the Johnson Matthey 100oz silver bar being the most popular. Each bar displays the following:
The Johnson Matthey Logo
Weight of the bar
Serial number
Johnson Matthey Silver Bars Benefits
Johnson and Matthey create some of the world's most trusted silver bars. However, beyond the technical details there are many benefits to purchasing silver. Precious metals such as silver have long been seen as a perfect way to diversify your retirement portfolio. Companies traded on the stock market may come and go, but the hard commodity of silver will always be here. If you are worried about your paper assets in your retirement portfolio it may be time to consider the benefits of precious metals.
Moreover, silver is often seen as a hedge against inflation. As time goes on, many people view inflation as inevitable. Massive amounts of money printing and growing national debt certainly do not help the value of the U.S. currency. Silver will always be of value and is more readily accepted for payment over a hyper-inflated currency.
Additional IRA Approved Bars & Coins
Adding Johnson Matthey Silver Bars to your IRA
For more information about adding Johnson Matthey Silver Bars to your Silver IRA. Tax-Free & Hassle-Free. Call American Bullion at 1-800-326-9598 to speak with a Silver specialist.
References: Johnson Matthey, JM Refining